Welcome to Show Us Your Books – hosted by Steph and Jana. I'm going to be sharing some of the books I've read recently. I have read more in the past month, but I have longer reviews for those so I'll be posting them separate soon! The links to purchase are affiliate links; I get a small percent of all sales at no extra cost to you!
Show Us Your Books Time: book reviews and book giveaways #ontheblog #bookgiveaway
Click To Tweet
View this post on Instagram
Is It Just Me? by Miranda Hart
All in all, I really enjoyed this one. There were definitely moments of literally laughing out loud, and that's always a positive!! I could relate to a lot of what Miranda said and I loved her writing style – it was fun and amusing, but also very down to earth and real.
Read my Full Review
View this post on Instagram
Is Everyone Hanging Out Without Me? (And Other Concerns) by Mindy Kaling
I like what I know of Kaling and I think she's a great actress, but I didn't necessarily love her humor throughout the book. It wasn't bad by any means, but I'd really only suggest the book for those that really love Mindy already!
Read my Full Review
I really liked Abigail. Like Watson, it's nice to get an outside perspective of Jackaby and the way he works. At the same time, Abigail notices things that Jackaby misses – the more ordinary clues that can still help. She's a very strong person who is determined to have adventures and live her life the way she wants. As for Jackaby, he's good fun! He does and says some crazy things, but he's very much a genius in his own right. Plus, he's unintentionally funny (again, like Sherlock Holmes) and that's always enjoyable. This is the first book in a series and I hope to continue soon!
Read my Full Review 
Review by Lauren
Source: copy from Netgalley; all opinions are my own
Official Summary (add to Goodreads): Smoke jumper Lincoln Reid is speechless to see Jacob Hartman among his squad's new recruits. Linc had promised his late best friend he'd stay away from his little brother. And yet here Jacob is…and almost instantly, the same temptation Linc has always felt around him is causing way too many problems.
Jacob gets everyone's concerns, but he's waited years for his shot at joining the elite smoke jumping team, hoping to honor his brother's memory. He's ready to tackle any challenge Linc throws his way, and senses the chemistry between them—chemistry Linc insists on ignoring—is still alive and kicking. This time, Jacob's determined to get what he wants.
Close quarters and high stakes make it difficult for Linc to keep his resolve, never mind do so while also making sure the rookie's safe. But the closer they get, the more Linc's plan to leave at the end of the season risks him breaking another promise: the one his heart wants to make to Jacob.
Review: Annabeth Albert is one of my favorite authors, but I have to admit that I didn't love Burn Zone as much as I loved many of her other books. However, that doesn't mean that I disliked the book or wouldn't recommend it. I thought the job of smoke jumper was really intriguing to learn about, and I did enjoy both main characters – Lincoln and Jacob. Despite that, I felt worse for Jacob, since he's the one who really wanted to try a relationship with Lincoln. He was putting his heart on the line a lot more than Lincoln, who kept trying to say it was a summer thing and that was it.
I did feel bad for Lincoln. He had his reasons for wanting to keep Jacob away, and I could understand them, but that doesn't mean that I agreed with them. Him and Jacob were adults and they should have been able to talk to each other as adults – but Lincoln still sees Jacob as his best friend's little brother and therefore, he doesn't always treat him as well as he should.
Burn Zone is the first in a new series – with the next book following a different couple – and I will definitely be reading it!!
The Impostor's Daughter by Laurie Sandell
I've had this one on my shelves for awhile now, so I'm definitely happy that I finally took the time to read it. It's definitely an interesting graphic memoir. I found myself really upset on Laurie's behalf, with everything her father has done or lied to her about over the years. Despite her mom's constant explaining away of her husband's behavior, I felt bad for her too. However, Laurie is the only one in the family who really wants the answers to her father's many lies, and being a writer, she sets out to see what she can find. This was an overall quick read. I found the story fascinating, and it's even crazier that it's a memoir. At the same time, it wasn't a book that I downright loved. I feel like, in the end, not a whole lot has "happened", but I am glad that Laurie got the help she needed and could move forward without lies holding her down.
Add to Goodreads.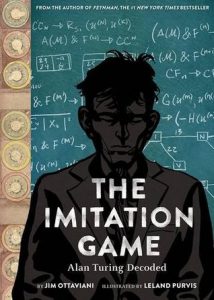 The Imitation Game: Alan Turing Decoded by Jim Ottaviani and Leland Purvis
I loved the movie The Imitation Game and learning more about real-life figure Alan Turing. I'm glad I finally got the chance to sit down and read this graphic novel about Turing. It's not based on the movie -so there's plenty that the same, and plenty that is different. I really enjoyed it though. Some aspects were a bit hard to understand/follow, but I'm not a math/science person. Regardless, definitely a good read.
Add to Goodreads. Buy a Copy.
Happy & You Know It by Laura Hankin
This was my April Book of the Month choice, and I really enjoyed it! It mostly follows Claire, a musician, who gets a job singing to a NYC playgroup. We do get the perspective of some of the other women in the group, and oooh boy, is it fascinating! There is a lot of secrets and drama, but at the same time, I really felt for (most) of the women. This was a really quick read, and I'd definitely recommend it to those who are interested.
Use my Affiliate Link for Book of the Month if you want to subscribe.
Add to Goodreads. Buy a copy. 
View this post on Instagram
Starcrossed by Allie Therin
copy from Netgalley; all opinions are my own
This is the second book in the Magic in Manhattan series and I'm obsessed! I gave the first book, Spellbound, five stars, and I gave the same to Starcrossed. This series takes place in 1920's New York and follows Rory, a psychometric (he can read the history of an object) and his eventual boyfriend, Arthur, who doesn't have any powers of his own but he knows all about the supernatural. Starcrossed picks up where Spellbound left off, and we are taken on another fantastic journey across New York. Yes, there is a romance, but it's more than that. There's mystery, magic, and creative characters that you're sure to love (and hate). I cannot wait for the third book!
Add to Goodreads.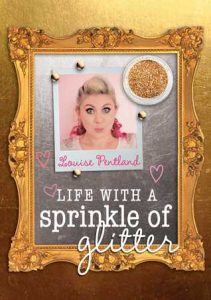 Life With a Sprinkle of Glitter by Louise Pentland
Louise Pentland is a Youtuber, but I've never seen any of her videos. However, I've owned this book for awhile now, because it seemed fun, so I'm glad the Read the Alphabet challenge gave me the opportunity to finally read it. Life With a Sprinkle of Glitter is not exactly a memoir – though it does have some elements of them. The book is broken into sections and focuses on topics like beauty, friendship, parties, bullying, and self-confidence. It would be a great book for teens/young adults – but I was able to get a lot out of it too. Louise has a fun writing style, and her personality really comes across well!!
Add to Goodreads. Buy a copy.
****
This is just a taste of the books I've read in the past month. See anything that looks good? Have you read any of these? Follow my blog for more book reviews – and other fun lifestyle/entertainment posts!
Before I let you go, I wanted to make sure you knew about a few things:
There is a giveaway going on now for a copy of Grow Through It (a picture book with all proceeds going to COVID-19 relief).
I created a Summer Reading Challenge for kids, teens, and adults. Prizes for International entries AND U.S. only, so please give it a look and read with me! Get your kids involved, and make it a family affair!
And finally, I'm co-hosting a big giveaway over on Instagram for Pride Month. You can win $70 to The Book Depository. International entries welcome – if TBD ships to you. Giveaway ends June 19.