May is my birthday month (I'll be 31 on May 30) and I always love making wish lists and sharing them on the blog, so here are some of the many things that I would be happy to receive for my birthday this year. If you have any of these, let me know what you think in the comments! (this post may contain affiliate links; I get a small % of any purchase you make at no extra cost to you* 
I love a good list, so I'm breaking up my birthday wish list into other themed lists! Most of the items I'm sharing here are actually on my Amazon Wish List if any family members are reading and want to buy me something. *wink, wink*
I'm a Bookstagrammer – I Need Stuff! 
I love taking photos for Bookstagram, but I could definitely use more equipment and props to help with my photo skills.
Clip On Selfie Ring Light – I don't really take selfies all that often, but I hear you can turn these around and it helps with taking photos in general.
Phone Stand – I've heard good things about this phone stand, and I think it would be handy for keeping my phone still when trying to take certain photos or if I ever want to try making more videos. At any rate, it would be good just to put on a desk and watch something on my phone.
Selfie Stick and Tripod– Every photographer needs a tripod, and I could really use one for taking various photos – especially if I want to ever be in the photo. It's tough to do that on your own, and most bookstagrammers I know have a tripod and remote to help.
Book Box Sets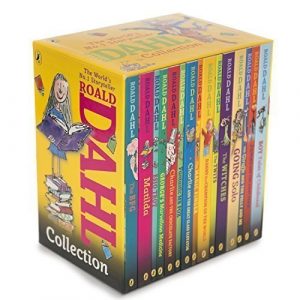 Roald Dahl Book Box Set: I've read some Roald Dahl books but I think it would be fun to own this 15 book box set so I could go back and read or re-read some of them one day!
The Baby-Sitters Club Graphic Novels #1-7: I haven't read any of the new Baby-Sitters Club graphic novels, but I really want to! This box set has the first seven books included.
Nom-Nom: Foodie Gifts
Tiny Baking Set: This set includes all the tools and recipes you need to make some teeny-tiny desserts. This is more for pre-teens, but I'd have a blast with it.
Microwave S'mores Maker: I love making s'mores in the microwave. I do enjoy a good fire pit, but I don't like my marshmallows to burn – plus, with my lung issues, it's tough to sit by a fire these days. I would love to try this microwave s'mores maker. If it works well and actually holds things in place, it'll be a game changer!
Happy Yummies: I'm in love with these gummies, and I would happily take more bags!
MinaLima Classics
I'm collecting all the MinaLima classic editions, and these two are the ones I still need (out of what's currently available).
May Book Releases I Would Love to Own
There are always tons of new releases every month, so here's a sampling of some May releases that I would love to own and read.

A Special Place for Women by Laura Hankin

 The Anatomy of Desire by L. R. Dorn

Playing the Palace by Paul Rudnick

Baby and Solo by Lisabeth Posthuma

The Secret Bridesmaid by Katy Birchall
Rosaline Palmer Takes the Cake by Alexis Hall 
Mug Toppers
I love these faux whipped toppers you can get and put on mugs; it makes such a fun decor item. Here are some summer-themed ones I'd love –
I would need the Rae Dunn/Regular Size for this Watermelon Mug Topper
How adorable is this Sunflower Topper? My mom has a lot of bee decor for the summer, so this would fit right in!
This Patriotic Mini Mug with Topper is perfect for the summer months. This one actually includes the mini mug. It would be really cute on the tiered tray at my house.
I Love Gift Cards
Finally, I'm a big fan of gift cards. I know some people don't like giving or getting them, but no worries about that for me. Some of the places I'd like gift cards to –
Torrid
Old Navy
Target
any bookstore
iTunes
The Melting Pot
What would you put on your birthday wish list?