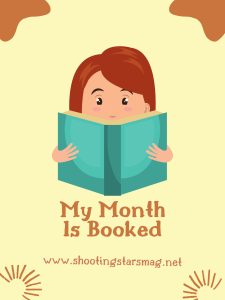 It's somehow already time for another My Month is Booked. I meant to post some reviews since my last one, but time got away from me, and I only shared my review for The Sunbearer Trials. Oh well, I hope to post more this next month. But for today, I do have some mini reviews to share. Leave a link to your own reviews or round-ups below, and hop around and find some new blogs!
If I use a Bookshop.org link, it's an affiliate link. Also, if you purchase any books from their shop on July 11 and 12, you'll get free shipping!!! 
My Month is Booked: July 2023

Killing Time by Brenna Ehrlich
Natalie has always been fascinated by true crime, and so did her favorite teacher. Her mom is not a fan of this passion, and she's especially upset by Natalie's interest when that favorite teacher is murdered and Natalie can't keep her nose out of the investigation. I really liked the dual timeline – it follows Natalie in the present, teaming up with a local guy to figure out what happened to her teacher, as well as Natalie's mom when she was in college and wanted to be a journalist herself. I really liked both timelines, and I found the overall mystery to be interesting. It was a pretty quick read.
copy from Netgalley; all opinions are my own

Pack of Lies by Charlie Adhara
Pack of Lies a paranormal romance with werewolves. It's male/male romance. There's also a murder mystery. I really liked this one. It was a quick, fascinating read! Book two comes out next year and I cannot wait. Pack of Lies nicely mixed the mystery and the romance, along with information about what it means to be a werewolf. I haven't been reading as much paranormal romance as I used to, so it was to dive back in. I do recommend!
copy from Netgalley; all opinions are my own

Murder Off the Books by Tamara Berry
I was sent a physical copy of this book to review. It's the third in a cozy mystery series, and I hadn't read the first two, but that's okay. I was still able to pick u on who everyone was and each book contains it's own mystery. I love that the main character is a mystery author, and she's actually opening up her own bookstore when this book begins. Unfortunately, that is eclipsed by her mom's beau turning up dead and a lot of people that could want him gone. I read this one on vacation – it definitely made a good beach read!

The Wife App by Carolyn Mackler
I was sent a physical copy of this to review. If you recognize the author name, it's because Carolyn writes YA and this is her adult debut. The book follows Lauren, Madeline, and Sophie. They are all single moms – Lauren being the most recent to get divorced from her cheating husband. They drunkenly come up with the idea of the Wife App where people sign up to be Wives, and you do the drudgery that many wives and moms have to do. You take over the mental load, but this time, you get PAID. I like that the Wives on the app could be men, woman, or nonbinary. I thought the book had a lot of LGBT+ and gender diversity, which I really appreciated it. The app was really interesting, and I definitely rooted for these women.
***
I do have a lot of other book reviews I need to write, and I plan to share those in the next month, so keep stopping by.
It's Your Turn to Link Up!!!
You are invited to the Inlinkz link party!