It's the beginning of a new month and I'm linking up with Anne (Currently) and Kristen (What's New With You)! 
Making: Crafts at various libraries around me with my mom. This is a usual occurrence, but here are some of our latest creations-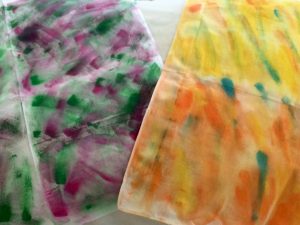 Watercolor Handkerchiefs: Mine is on the left (purple and green) and my mom's is on the right (more sunset-y)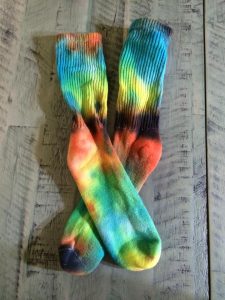 Tie Dye Socks: My mom's are on the left and mine are on the right!
Taking: Bids! I have another auction going on. You can bid to win an ANNOTATED copy of Waste of Space by Gina Damico. Annotated means the author wrote notes in the margins of the book – a one-of-a-kind item for any book fan. Plus, all the money from the highest bidder goes to First Book. Check out the book auction to learn more and bid!
Discovering: Way too many books for my wish list. It's a problem, you guys. You can see SOME of the mysteries/thrillers I want to read in a recent blog post.
Consuming: All the meals from Freshly. I've talked about these before, and I am planning a full review post, but for now, if you want to try it out, feel free to use my affiliate link to help us BOTH save some money (you get $40 off, and I get $40 off). These are chef-cooked meals that you just warm up for a few minutes, and there are some really yummy ones. Plus, they are all gluten-free (there are also meals that are vegetarian, dairy free, etc. so you get a lot of choices!) I highly recommend.
Saving: Ideas for things to do this Fall. It's my favorite season, and Halloween is my favorite holiday. There are always a million things to do though, and it can be tough to find the time for it all. However, I'm trying to make a list of things to do and see (both for the "adults" and things to do with my nieces and nephew!)
Feel free to answer any of these in the comments, or tell me what's new with you? 
What's Currently going on with you? Discovering, Saving, and more #ontheblog #currently
Click To Tweet