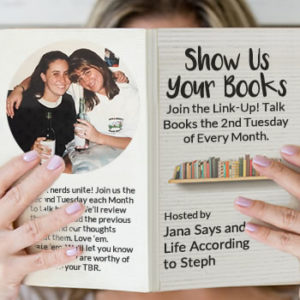 It's time for Show Us Your Books with Jana and Steph. I have some mini book reviews to share with all of you today. First off, don't forget to enter my Favorite Things Giveaway (and others in the hop as well). It ends on February 28.
I read a lot of books in January as part of the CYBILS awards. I'm helping to judge the YA Fiction category. The winner will be announced Friday, so for now, I can't share my thoughts. Expect lots of reviews to come!!
Here's some of the other books I've been reading though—
library copies; all opinions are my own
I don't know a whole lot about fencing, but it's definitely an interesting sport. I really love these graphic novels – the next one, Fence: Rivals, comes out in May. The books follow Nicholas and Seiji, rival fencers, until they end up at the same boarding school. They're essentially still rivals at school too, though, as only so many people can make the team. I loved both main characters, as well as the secondary characters. I think it's awesome that there is so much diversity, especially in terms of sexuality. Plus, their coach is a woman, so that's pretty awesome!! I'm excited to see where the story goes from here.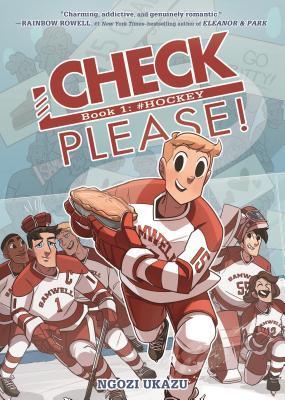 Check, Please!: Book 1: #Hockey by Ngozi Ukazu
library copy; all opinions are my own
I've wanted to read Check, Please! for awhile so I was excited to see that my library had a copy. This is a really cute graphic novel about Eric "Bitty" Bittle and his college hockey team. I like that the book is set in college, as readers get to experience that world along with Eric. His teammates are all very different and great – some are particularly amusing! The illustrations are bright and fun, though not overly realistic. It worked for the book though! Another LGBT+ graphic novel series that handles everyone's sexuality and gender identity well. The second book, Sticks and Scones, comes out in April.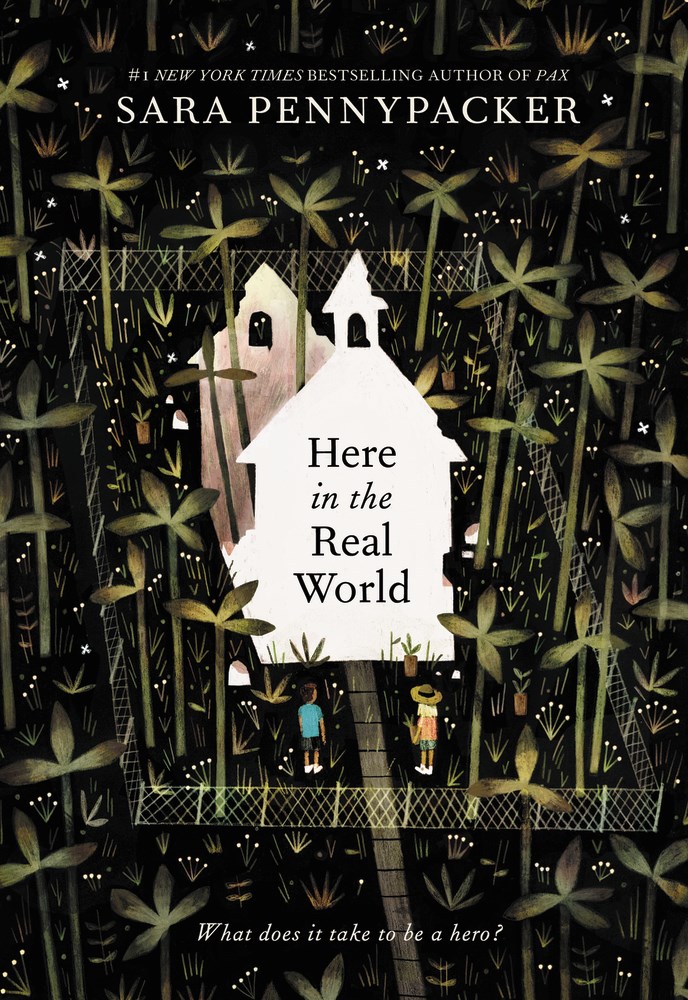 Here In the Real World by Sara Pennypacker
copy from publisher; all opinions are my own
I took part in the blog tour for Here in the Real World, so I already have a full book review posted. You have about 10 days left to enter the giveaway too, so check it out. However, here are some brief thoughts about the book-
I found Here in the Real World to be a good middle grade book, but it definitely started off kind of slow for me. As the book progresses, it picked up steam, though it's definitely not a book full of action. It has a lot more introspective and imaginative moments.
Anyone But You by Brien Michaels
copy from Netgalley; all opinions are my own
I did a full review for Anyone But You, but again, some brief thoughts-
I'd like to say that while I liked Anyone but You, it's more of a solid three-star read than something I'm gushing about left and right. 
However, it had a really great mystery!
personal copy; all opinions are my own
I read Ban This Book as part of the Read the Alphabet Challenge, and again, here are some brief thoughts-
I loved that the Banned Books Locker Library made Amy Anne more bold and better able to speak up for herself and others. It also gave her the chance to learn more about her classmates, and other kids in the school, instead of just hanging out with her one friend, Rebecca, everyday. Ban This Book is a wonderful middle grade novel, and it would be great for starting discussions.
Wounded Martyr by Courtney Maguire
copy from Netgalley; all opinions are my own
I love the beginning of the official summary for this book: Ice is an asshole, but he's working on it. That's pretty accurate. Ice is a recovering alcoholic, as well as the lead singer in a metal band. His ex, Ricky, is finally giving him a second chance, even though Ice treated him horribly when he wasn't sober. At the same time, Ice is starting to well…not develop feelings exactly…but he's becoming more attracted to band mate and best friend, Ashton, who he's known for years. Back on tour, Ice is finding it difficult to keep his demons at bay, and I really did become invested in his story.
I felt bad for Ice and it was obvious that he was struggling. At the same time, I also felt equally bad for Ricky and Ashton who are caught up in his downward spiral. This book definitely took some turns I didn't really expect, but I think they made sense and worked for the book. I definitely enjoy books about musicians, and this was a really interesting look at the hardships some face when becoming famous. I gave this one 4 stars!
That's it from me this month! Have you read any of these books? Do any look good to you? Let me know in the comments!