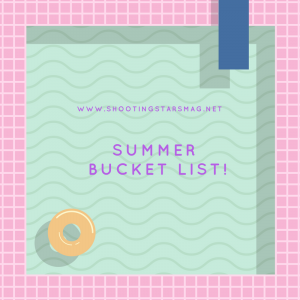 Wow, it's already been a full month since the beginning of Summer. That means it's time for me to link up with my fellow bloggers and give you an update on my Summer Bucket List!
UPDATE on My Summer Bucket List: How are you doing on yours? #summerbucketlist #ontheblog
Click To Tweet
Swim at Night: I've actually been able to do this a few times this summer, which is great! There's just something about swimming at night.
Paint All My Nails: I haven't given my self a mani or a pedi, but a friend just sent me a few nail polishes so I need to get on it!
Read Winter by Marissa Meyer: I'm more than halfway through this one, so I'll give myself a 1/2 point for this one. I should be able to finish it this week.
Celebrate My Blogoversary: August means I've been blogging for 11 years, so I am definitely planning some fun posts – and a couple giveaways!! Stay tuned for all of that next month.
I've finished 1 1/2 out of 4, which isn't too terrible. I plan on having Winter done this week, I will be painting my nails soon, and crazily enough, August is next week so I can start celebrating 11 years blogging!
How are you doing on your summer bucket list? 
Check out how the other bloggers are doing!