I'm here today to share my summer bucket list and link up with some other fab bloggers. Tomorrow is actually the first official day of summer, but I have another post to share, so I'm here today! Let's get started—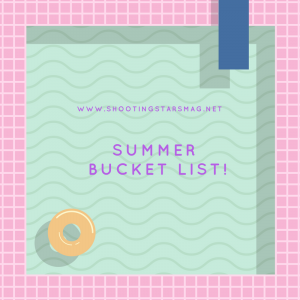 Now, you might remember that I actually did a Summer Fun from A to Z post and that really does count as a summer bucket list. However, I have a few little things I wanted to add, so that's what I'm doing today!
Summer Bucket List for 2018
Swim at Night: I actually got to swim at night this past Sunday, but I'd like to do it one or two times more. It's just so relaxing and you don't have to worry about getting sun burnt.
Paint All My Nails: This means my fingers and toes – it's been awhile since I've painted either, so I want to do that this summer!
Read Winter by Marissa Meyer: This is the final book in the Lunar Chronicles series, which I love, so I want to finally take the time this summer to read the last book!

Celebrate My Blogoversary

: This August, I will have been blogging for 11 years. It's crazy, and I definitely plan to celebrate with some fun posts – and a giveaway or two! If you want to celebrate with me, please get in touch!
Summer Bucket List: What do you plan to do this summer? Come get some ideas #ontheblog! #summerbucketlist
Click To Tweet
Check out all the blog's bucket lists! Please share what's on your own bucket list in the comments!