I'm back today with another fun product that will make staying home this summer a little easier. Since most of us are having a Summer Staycation, I wanted to showcase a creative way to keep track of memories! Let me introduce you to the Summer Journal – aka a Traveler's Notebook for your Summer Memories!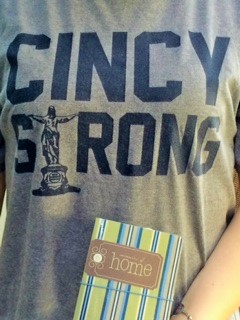 I live right outside of Cincinnati, Ohio, so whenever I do Local Tourist posts or think about home, Cincinnati is included. As you can see in the above photo, I will be talking about this summer journal called Memories of Home from Bits of Plaid n Paisley. It's made up of traveler's journals and the lovely Amanda has included all sorts of fun pages within for you to add your photos, memories, and more. I'm a big fan of the elastic around the journal – it's attached to the spine so you won't lose it when you open and close your book!
You don't have to go far this summer to enjoy a journal full of memories!
Memories of Home: A Summer Journal
I don't want to spoil the entire journal, so I have selected a few pages to show off so you get an idea of what the summer journal entails. In the photo above, I love the little pocket and paper house. Just small, fun details!
How cute is this? There's another pocket on the left hand side, and the right includes a fun 3-D sticker that says Home. I love the extra items on the left – they are wrapped in a white ribbon. You can use these to decorate or make notes. It's definitely a mix of journaling and scrapbooking, and I love that! This would make such a fun project for families!
Just another page in the summer journal/scrapbook. I'm a big fan of quotes, so I thought it was fun that one was included. Obviously you can add your own quotes on other pages too if you like!
Ways to Use Your Journal
keep track of funny or interesting things your kids say and include them in the journal
make a list of all the movies you watch over the summer
include photos of the things you did on your Summer Staycation – whether you're at home or actually going somewhere
include a favorite summer recipe and/or a photo of said item
have each of your kids – or each family member – take over one of the journal's pages with whatever they want to remember
include a summer bucket list, and cross off what you accomplish!
Hopefully this gives you some ideas on how to use a journal/scrapbook like this. Now it's time for you to try and win this VERY journal, so you can document all your Memories of Home. You're going to want to check out the Etsy shop too for all sorts of wonderful goodies!
Rules (and don't forget to enter the Pinatagrams giveaway!)
U.S. only unless you can help with shipping (I can pay some of it)
Giveaway ends July 30
Must be 18+ to enter or have parental consent
Once I mail the prize to the winner, I'm not responsible for lost/damaged items