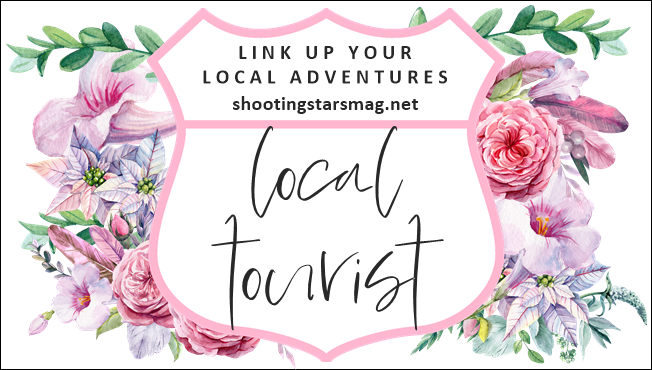 Local Tourist is a monthly link up that I host with Dara from Not In Jersey. On the last weekday of every month, we share what local adventures we've been up to! I know this might be tough for some because of Covid, but you're welcome to share past adventures or adventures that you hope to go on in the future!! We'd still love to have you!!!
Local Tourist: June 2020
I had a couple doctor appointments this past month, but who wants to hear about those? At least not in this post! Really, I only had one event that I think would work for Local Tourist, but one is better than nothing!
Friday, June 19: My sister and I took part in a Zoom Book Bingo for Adults. This was hosted through one of our local libraries, and it was a lot of fun! We were all on Zoom and the librarian in charge had the whole bingo set up on her end so she could call out numbers.
The rest of us had digital bingo cards – or we could have printed them off – and obviously we kept going until someone won. I think we played a total of 6 or 7 games – which lasted about 90 minutes. Unfortunately, I did not get a Bingo. My sister, however, did!
The reason it's called Book Bingo is because if you get a bingo, you get to choose a free book. The librarian emailed all the winners the next week with the list of books you could choose from and you send back your top choices. As long as people aren't completely overlapping on their choices, you get one of your choices, and then you just go to the library location you chose in the email to pick it up. Easy peasy! My sister ended up choosing Before She Knew Him by Peter Swanson. Neither of us have read it, but we love mysteries and I personally want to read something by Swanson, so it was a great prize that we could share!
If you have your own Local Tourist post to share, please link up here:
You are invited to the Inlinkz link party!

Currently: July 2020
I have a post that I need to schedule for tomorrow, so I'm a day early with Currently, hosted by Anne from In Residence. I'm also linking up with Kristen on Thursday for What's New With You?
Cooking: not a whole lot. I think with quarantine, a lot of people have been making more and more food at home, but that's not really the case over at my house. We have been regularly supporting a local business that does fantastic carry-out meals though!
Photographing: books! I really haven't been anywhere or seen anyone since mid-March, but I am trying to work on my Instagram a bit more, and a big part of that is Bookstagram – aka book photography! It's been fun coming up with new ideas and interesting ways to showcase certain titles. Please follow me – and if you do, let me know, and I'll follow back!
Sharing: with all of you that I'm hosting a Summer Reading Challenge. There are levels for Kids, Teens, and Adults, so everybody can enter and try and win prizes. Yes, PRIZES!! You get entries for every SINGLE book you read – as well as some other tasks if you're a teen or adult – so it's not difficult to enter. I'd love for more people to take part and/or spread the word.
Trying: to move more. I did really well for awhile, even with quarantine, but ever since I got sick, it's been tough. I know I updated you all awhile back about how I didn't have COVID, and they said it was pleurisy – which was so super painful and made the month of May kind of awful.
Well, I think I still had pleurisy, but I was also informed (after doing a CT Scan with Contrast) that I have blood clots in my lungs. That explains the lingering pain and pressure on my right side – in my chest and on the side a bit. It doesn't hurt non-stop but the more I move or bend over, the more it starts to agitate me. Also, I still can't really lay on my right side or my back, so that's been annoying at night. I'm currently on Eliquis for six months so that will hopefully take care of the pain/pressure. I guess it can take awhile for the actual blood clots to disappear though. They're relatively small – which is good – but it's been a challenge to deal with.
Wondering: all sorts of things – when there will be a cure or vaccine for COVID, when I can dance again, when I'll have to go back into work (I really don't mind working from home), if I'll be able to get away this Fall (not Gatlinburg, but something more isolated), and on and on and on. I've definitely had a lot of anxiety these past few months so I try not to dwell on any one thing for too long. I already struggle with anxiety, so this just exacerbates it. I know I'm not alone here!
Before you go, I want to remind you that my giveaway for a Mary Kay Satin Hands pampering set ends tonight! It's, unfortunately, open to U.S. only but if you can enter – please do! Also, I sell Mary Kay, so if you want to buy anything or have questions, let me know! I'm always happy to help and I won't hound you to buy things!