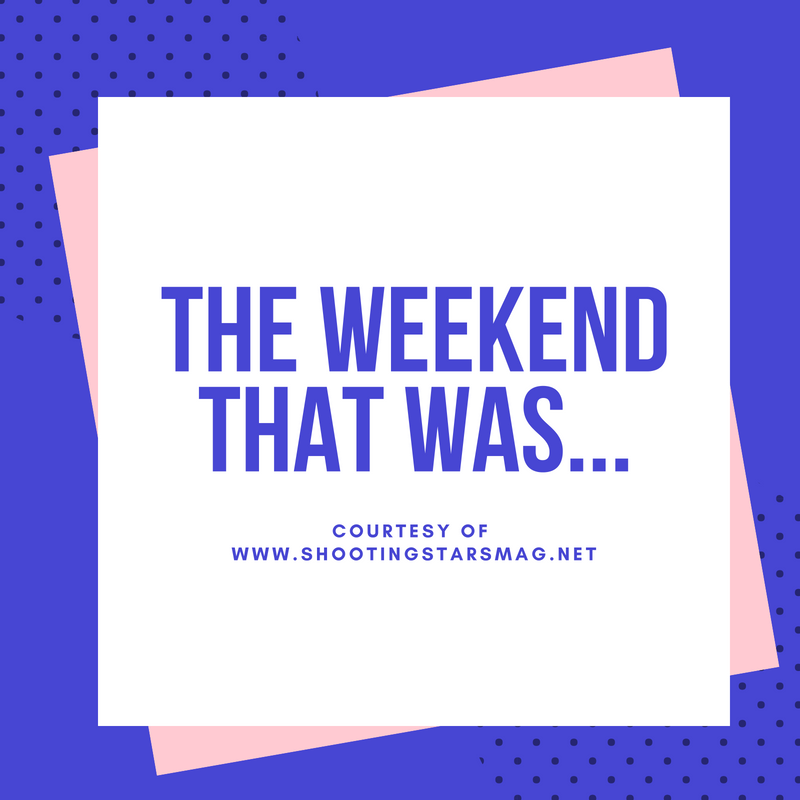 I haven't done one of these in awhile, but I had a really jam-packed weekend, and I wanted to share with all of you. I'd love to know what you did this past weekend – please let me know! I'm linking up with B Loved Boston today.
Thursday, October 11
I knew I wouldn't have time to see a movie over the weekend, and there are a few that I've been wanting to see – and more and more coming out every weekend – so my mom and I decided to go see a Thursday night movie. It was nice; not too crowded! We saw Night School, starring Kevin Hart and Tiffany Haddish. It was actually quite funny, though if you haven't seen it yet, you can always wait for it to show up in Redbox or on Netflix. My mom and I both really enjoyed it though.
Friday, October 12
A friend of mine and I attended The Zoo Caper at the Cincinnati Zoo. The entire evening was $65, and I think it was worth it. We arrived a little before 7 and got some appetizers. Then we were brought over into another pavilion where we found a table and they chose tables to go up and get their dinner – think a buffet wedding and you've got the idea.
I thought the food was really good. Once everyone had gotten food, it was still out for a bit so you could go back and get more. I grabbed another cookie! Water is free, which is what my friend and I stuck with (you could get tea for free too), but they had soda and alcohol for sale if you wanted that.
Once everyone had eaten, the show began! While the actual mystery wasn't about a murder, I'm still counting this toward my 30×30 bucket list item of attending a murder mystery dinner. The show was created by the Cincinnati Circus Company and there were only three of them, so some of the characters were played by volunteers in the audience. Each table had a piece of paper containing the story – the Zoo director has been run over by the tram and can't remember who did it and a special golden-tailed sloth was stolen – as well as the various characters/suspects.
All of the characters walked around the tables and you could ask them questions – ideas are at the bottom of the page. Since most of the characters aren't actual actors, it's good to stick to the basic questions, because they only have so much information. You were supposed to be in groups of three – they only had three prizes – but our table only had four people, so we did a group of four instead (one of the other people at the table said she didn't care about getting a prize). Anyway, this was the first round. There was a bit of a break and one of the actors did some magic tricks, and then part two started. Now we all had a coded message to break, to help us figure out who-done-it and all the actors had some new information, including what certain letters/symbols meant to help you along with the coded message.
With the clues, and our own smarts, we got the coded message figured out! My friend and I did a really good job with figuring out what things were based on how many letters were in a word, etc. Due to the message, we did figure out who-done- it and it was actually two different people – one person ran over the director and one stole the sloth, and we got it right. Unfortunately, we weren't chosen for the prize, but figuring it all out was still really fun! It was a good night, and I recommend attending a mystery dinner (or murder mystery dinner) if you get the chance. It was fun having it at the zoo!
Saturday, October 13
Saturday during the day, I went to the Fall Festival at Burger Farm in Cincinnati, Ohio. It was me, my mom, sister, brother, sister-in-law, and their kids. We had a really great time. If you look at the picture above, it shows you everything that your admission includes ($10 for kids – they get to do more and $5 for adults) and it's a lot – though of course there are some extras that you pay more money for, but they are mostly done by ticket. You buy so many tickets, and certain activities are worth various tickets. My oldest niece, for example, really loved petting the rabbits and that was 1 ticket. But they had mini zip lines, a corn box (kind of like a sand box), puppet shows, sand art, carnival type games, and even a hayride!
We actually did take the hayride, which brings you up to the pumpkin patch. My sister grabbed four small pumpkins, one for her and three for the kids. We then took the hayride back down, where you buy the pumpkins. On the ride, there are wooden, wonderfully painted creatures throughout the farm, which were fun to point out with the kids (Frankenstein, witches, a ghost, some fun monsters, etc.). You can't go wrong with a hayride! As for the food, it was cash only (though you could use a card for entering the festival). Definitely some great food. I had the cheeseburger and a pretzel later on, but they had lots of other options from popcorn to cider (hot or cold) to nachos to hot dogs to chili. We had a great day and I hope to go back next year!
Saturday night, my sister and I had our second annual Halloween Movie Marathon. We order pizza, eat snacks, and watch Halloween movies. This year, we watched the first two Halloweentown movies. You know, those classic Disney films. It was a fun night and I'm glad that we had a pretty good turn out!
Sunday, October 14
On Sunday, we went back to the Ohio Renaissance Festival. I didn't take any photos this time around, but I went with my parents and my sister. My mom went last year and loved it, so she was excited to go again, and I don't think my dad has ever been, so he had a great time. We saw Jousting and the Kamikaze Fireflies again, and of course, we ate lots and lots of food. This time around I got a cinnamon roll that I didn't even realize they had there (so yummy). If you're going, it's the coffee shop right across from the entrance to the festival. They aren't served warm, but even cold, they were amazing and I highly recommend! We all had a really great time and thankfully, while it rained at home, it didn't rain there. My sister bought a ring and I got a leather journal with Slytherin colors. Now I just need to figure out what I want to do with it…
The Weekend That Was…
The Weekend That Was: The Zoo Caper, Halloween Movies, and Pumpkin Patches #ontheblog
Click To Tweet
And that's a wrap! Whew! Now you can see why I wanted to share my weekend. It was very busy, but a lot of fun. I'll be ready for a slightly less jam packed weekend coming up though!