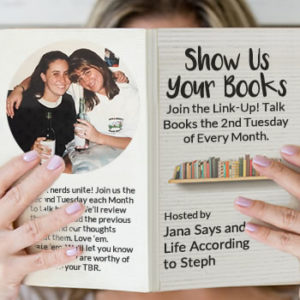 It's time for another Show Us Your Books with Jana and Steph!
Today I'm going to share one book review, but I do have some other book reviews that I've posted since the last Show Us Your Books and I want to make sure you can find those too, so here's the links:
The Hound of the Baskervilles – A Graphic Novel: Book review 
Running With Lions by Julian Winters: Book review
The Blueprint by S.E. Harmon: Book review
Show Us Your Books with The Year of Cozy #bookreview #ontheblog
Click To Tweet
The Year of Cozy: 125 Recipes, Crafts, and Other Homemade Adventures by Adrianna Adarme
Review by Lauren
source: personal copy; all opinions are my own
Official Summary (add to Goodreads): From the author of the popular blog, A Cozy Kitchen, comes a beautifully photographed one-stop-shop book with all the recipes and projects you'll need for some cozy inspiration this holiday season—and all year long. You'll love Adrianna Adarme's easy-to-follow instructions and will enjoy getting lost in her warm and comforting photographs. Organized by the months of the year and by categories as "Live," "Do," and "Make, " this book offers ideas for activities, recipes, and DIY projects that make the little moments in life just as exciting as the big.
Review: I'm not familiar with Adarme's blog, but I had seen this book around for a long time so I was really excited when I was finally gifted a copy. I had initially started this book late last year/early this year but I finally read the majority of it last month and it's definitely one to keep on the shelves. The book is broken into seasons, and then into categories like "Live" and "Make." I'm someone who likes to really celebrate and appreciate each season in the year, and I'm lucky to live somewhere that (mostly) has all four seasons, so I really love the idea behind this book. There are recipes, crafts and other DIYs, and even just ideas of things to do and experience whether it's Winter, Spring, Summer, or Fall.
I did really appreciate that the recipes and DIYs weren't all really difficult. I'm not the best cook, so I can't say I'll be trying to make many of the recipes – but I am pretty curious about some of the crafts/DIYs, and I like when they seem fairly simple to pull off! I might like being artsy, but that doesn't mean I have a ton of talent in it. Adarme has a fun, easy-to-read writing style, which makes me understand just one reason she's a popular blogger. I'd definitely recommend checking out The Year of Cozy; it would make a fantastic gift too!