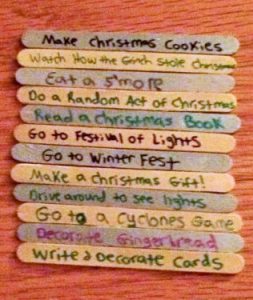 Happy Monday! It's been a month since the official start of Winter and it's time to give you all a little update on how my Winter Bucket List is faring. Granted, most of these were pretty holiday specific…so if I missed them, then I've missed them until next Christmas. Be sure to click the linky below to see how the other bloggers are doing!
(#ontheblog) Winter Bucket List Update: Have you crossed everything off your list? #bucketlist #winterbucketlist
Click To Tweet
Make Christmas Cookies: I did indeed! My sister and I had our annual Christmas Cookie Exchange Party so we both made some cookies for that.
Watch How the Grinch Stole Christmas: I watched the majority of it at my brother's house when we went to Louisiana for Christmas, so I count this as a yes!
Eat a S'more: I ate a lot of fun treats…but not a s'more! This was something I was going to do when I went to another item on the bucket list (which didn't happen).
Do a Random Act of Christmas/Kindness: I did a few actually!
Read a Christmas Book: Yes, I did! You can read a couple of my reviews here.
Go to Festival of Lights: This takes place at the Cincinnati Zoo and I didn't make it this year. I was going to eat my s'more (see number 3) here, but alas, it just got too busy and then the days we could possibly have gone, it was way too cold!
Go to WinterFest: This takes place at King's Island, and we did go once! It would have been fun to go at least twice, but maybe next year!
Make a Christmas Gift: Sadly, no. I had a couple library events I was going to attend to make a gift for someone, but I ended up not making it to them for one reason or another.
Drive Around to See Lights: Not officially, which means we didn't drive around with that in mind, but we did drive around a lot and saw bunches of lights just from traveling so I call it a win!
Go to a Cyclones Game: I'm actually going to one this Saturday; my ticket was a Christmas gift from my sister, so I'm counting this. I can't wait! Oh and the Cyclones is Cincinnati's hockey team by the way!
Decorate Gingerbread: I still have my gingerbread camper van! Hopefully it's not too messed up, because I do plan on decorating it still…so not yet for this one, but it will happen!
Write and Decorate Cards: Yes! They weren't as homemade as I would have liked, but I did write and send out cards…and some included fun stickers, so it counts!
All in all, that's 8/12 and it'll be 9/12 once I do my camper van gingerbread!
Do you have a winter bucket list? How are you doing on yours?
Check out the other blogger's Winter Bucket List Updates!