Women's Wellness Weekend at Camp Ernst in Burlington, KY
From Friday, September 21 to Sunday, September 23, a friend and I spent the weekend at Camp Ernst for their Women's Wellness Weekend. Camp Ernst is normally a summer camp for kids, owned by the YMCA, so a lot of people I know went there when they were younger. However, I never really did camp growing up, so I'd never been. A few years ago, I realized that Camp Ernst held a camp for one weekend in September, just for adult women (so basically, adult summer camp), and I knew I had to go. The last time my friend and I tried to plan this, it didn't work out, so thankfully we were able to go this year and let me tell you, I will back for sure!
Now, if you're thinking adult summer camp – I can run around and drink all I want – that's not the case. This is basically a kid's camp experience, only as adults. We all arrived on Friday evening and found our "cabins" which were really rooms in the large building that held the dining room, showers, a couple lounge areas, etc. All the rooms did have a door that led straight outside and we slept on bunk beds, so it was basically a cabin. We played a getting-to-know you game and then we went down to the bonfire to make some yummy s'mores. May I now suggest switching your chocolate out for a Reese's cup? So good!
Saturday was the only full day of adult summer camp, so we got up and got ready, and then headed into the dining area for breakfast. All the meals are served family style and boy was it delicious! So nice to not have to worry about the food all weekend. We had five sessions throughout the weekend, and these were sessions we had chosen beforehand (you put them in order of preference for each one, just in case, but my friend and I both got everything we wanted).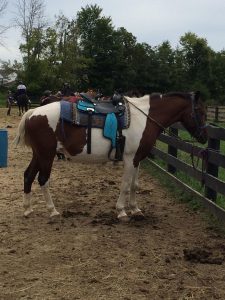 Our first session was horseback riding, which I'd never done. They asked if anyone was nervous, and I raised my hand, so they gave me Sugar, who's a bit slower. Plus, I had a worker in front of me and behind me as I went on our trail ride, so that helped me be less nervous. I had a really good time – even if Sugar wanted to walk in the grass at the end and rammed my knee into a metal box. Oh, and getting off the horse, I kind of fell and landed on my back. Let's just say I had pain and bruises for days. Despite that, I'm glad I had the opportunity to finally ride a horse and the actual trail ride was fun!
My second session at adult summer camp was Crafts, and my friend had something else, so we split ways. I made a bracelet (not the way you're supposed to, but it turned out cute), drew a picture, and made a couple candles. It wasn't supposed to rain on Saturday, but unfortunately, it was a bit of a light rain from the afternoon on. We ate lunch, and then despite the rain, my friend and I went down to the Lakehouse, the only other session we had together. We rode on an Aquacycle; kind of like a giant type of bike in the water. Man, you really work your leg muscles! We didn't stay out too long though as it was raining still.
We went back to the dining/sleep building and hung out, taking some time to rest and read. My next session was Chocolate Covered Everything and a guy and his son came in to show a bunch of us how to make various chocolate goodies like buckeyes, chocolate covered pretzels (use a tweezer to dunk them in the chocolate!), and more. We all got to try some samples as he made them and they cooled off, and we also learned a lot of little facts, like the one about dipping pretzels. If this is what adult summer camp is all about, I'm sold! It was a lot of fun, and at the end, he put out bags so we could fill them up with some treats. I did take some for home, but I ate more at the actual camp – especially since dinner was up next.
After dinner, there were a variety of things to do. I hope to go back to Camp Ernst next year, so I'm sure I'll do more on Saturday, but with the rain, my friend and I decided to just stay inside and read. There were areas outside the rooms on both sides of the building that had chairs/couches you could relax on and they lit the fire, so it was really cozy to just relax and read. My friend was in the midst of the Shades of Magic trilogy, and I was reading Vicious, both by V.E. Schwab. Events going on that night however were a scavenger hunt (which the four people in our cabin won, since they teamed up together, and who were really nice women!), a movie (you had to go outside to a new building for this – it was The Greatest Showman) and another bonfire.
The next morning was pretty casual. We all had one last session but mine was Crafts again, and I knew there weren't any more crafts I wanted to do, so I just hung out and finished Vicious. My friend and I packed up and then for lunch, the dining room had bagged lunches out for everyone to take or eat there. We decided to just eat the food there and then left for home!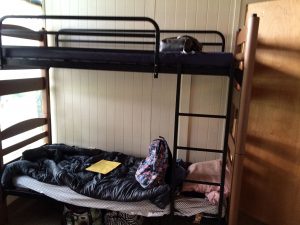 I had a fantastic time, and I highly recommend looking into adult summer camp where you live. I'd start with the YMCA as they certainly know how to plan a lovely weekend, as they did at Camp Ernst.
In case you're curious, a little break down of the food we were served at adult summer camp (there were drinks and snacks available throughout the day on Saturday too in case you were hungry between meals). Honestly, though, the meals were pretty large and with it being family style, you just kept passing things around and they were always refilling plates so you got as many servings as you wanted!
Friday: s'mores by the bonfire (my friend and I both got two of them).
Saturday Breakfast: Eggs, pancakes, bacon, fruit, cereal, oatmeal, etc.
Saturday Lunch: Grilled cheese, tomato soup, etc.
Saturday Dinner: Make your own tacos and super yummy chocolate chip cookies.
Sunday Breakfast: eggs, french toast, sausage, fruit, cereal, oatmeal, etc.
Sunday Lunch: Bagged food – lunch meat on croissants, pasta salad, bag of chips, apple.
Can you say…YUM?! Also, the entire weekend was only $150 to attend – not bad at all!
Have you ever gone to adult summer camp? Come learn what it's all about #ontheblog
Click To Tweet