Happy Wednesday! It's October 21 and that means it's time for my first Fall Bucket List Update! I'll be joining Leslie and others, so feel free to share your own list!
Eat a caramel apple

– Yes, I've had one! It wasn't the best, so I hope to eat another. LOL
Have some sort of Halloween movie night – Not yet, but I've been working on it!

Put together birthday and anniversary gifts that take place in the Fall

– Yes, I think I have most of these finished…maybe one more birthday (more on this below).
Go to the park – Nope, but hopefully soon!

Start dance class again

– Yes, and it's been going well. I'm just doing Tap at the moment, and it's weird having a mask on, but it's still nice to be moving again and have something else to do besides work.
Read two mysteries/thrillers from Book of the Month- Not yet, but I am reading The Night Swim right now so I'm working on it!
Attend an outdoor Fall or Halloween event– Yes! I went to another craft show – at the same location as the one in September – and it was a lot of fun. I also went to the Tricks and Treats Fest at King's Island and I'll have a post all about that soon!
Watch the second season of Dead to Me on Netflix- Not yet, but I still plan on doing this one soon!
4/8 which actually isn't too bad, since we're only a month into Fall! How are you all doing on your bucket lists? If you don't have one, have you done anything Fall or Halloween related yet?
Birthday/Anniversary Gifts:
As I mentioned above, I had a lot of birthdays and anniversaries that I wanted to get gifts for, and while I don't have personal photos, I thought I'd share some of what I bought and gifted!
For my friend S, some of what I got for her birthday were-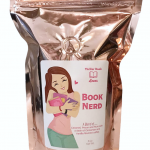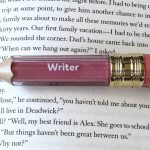 There's this really cute shop called Thriller Book Lover, and so I got her a Book Nerd Coffee Blend and a Writer Lip Gloss – I love that the lip gloss looks like a pencil (plus, she's working on her own novel, so it suits her!) PLUS, if you're in the U.S., you always get free shipping, so it's a great shop!!!
For my friend M, I put together a tote bag of gifts for her birthday, and one of the things included was–
A Plague Doctor Lotion Bar from Etsy (click photo to be taken to shop)! One, it's very Covid-esque with the Plague Doctor (and believe me, even without Covid, this really suits my friend), and it's a lotion bar and we're heading to some colder months so this is great for your hands. I chose the Spiced Apple Cider scent but they have a variety to choose from.
For my mom's kidney anniversary (she had a kidney transplant 14 years ago), I got her–
A Book Flower Teapot from Etsy. Click the photo to be taken to their shop. They don't have this exact item, but they do have some other bookish items. But seriously, this little teapot is adorable! The flowers are all made from old books, and some of the flowers are painted purple and then there are some green leaves. It's so beautiful and my mom loved it!
If you have a Fall Bucket List, link up below!
You are invited to the Inlinkz link party!