*please pin the below image if you like this post 

Happy Easter, Bookworms! I had a lot of great feedback on my Happy Valentine's Day, Bookworms! post that I wanted to continue for other holidays and occasions. Today, I am sharing some Easter Gifts for Bookworms. Easter is on April 4th this year, so hopefully you will have plenty to time to peruse this list and get your orders in.
Reading Bunny Mug – My Perfect Mug on Etsy
How adorable is this mug? I love all the bookish symbols that are used to make a bunny face! It's a really clever idea. A fun way to use this as a gift would be to fill the mug with some chocolate eggs or other favorite candy. Even better? The shop has other bookish and librarian themed mugs.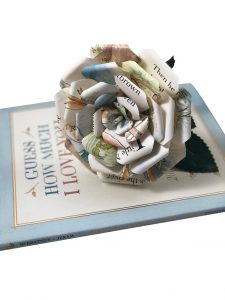 Guess How Much I Love You book page flower – Literary Blooms on Etsy
I shared flowers made from books in my Valentine's Day Gift Guide, so I had to do the same for Easter. You can get a book page flower made from the book Guess How Much I Love You which features rabbits of course!
A great way to gift this is to pair it with a copy of the book-
*affiliate link; I get a small % of any sale from this book*
Peter Rabbit Tea Tin – Novel Tea Tins on Etsy
Know someone that loves tea? You can give them this really cute Peter Rabbit Tea Tin! You can also give them this Hidden Safe Peter Rabbit Book – with the choice of adding tea or not.
Customized Stamped Books (Easter) – Grit & Grace on Etsy
Next we have some Easter Stamped Books. I love this as a decor item. I've seen many that are made of wood, but these are actual vintage books!
Easter Book Stack (with faux flowers) – AffleckandCo on Etsy
Another Easter Book Stack using real books. I had to share this one to give you another option. I like how these have faux flowers wrapped around the end to add the color. If your gift recipient has a tiered-tray, there are some other really fun gift options available too.
Easter Pocket Pillow – Charlotte Embroidery on Etsy
How cute is this Easter book pillow? If you've never seen these, it's a pillow with a pocket in front so the recipient can put their book there. It's great for night-time reading, and you could easily give this pillow with a fun Easter book!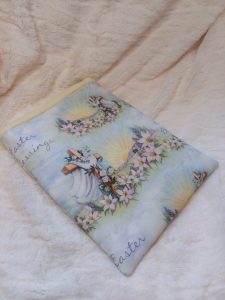 Easter Book Sleeve (Religious) – Wonderland Book Sleeve on Etsy
I'm a big fan of book sleeves so I had to share a couple. This is a Religious Easter Book Sleeve for those that celebrate the holiday for religious reasons.
Rainbow Rabbit Book Sleeve – Melvin Makes on Etsy (U.K. based – ships Worldwide)
This cute Rainbow Rabbit book sleeve is for any Easter fan. The Etsy shop is based in the U.K. though they do ship worldwide.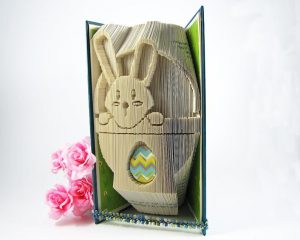 Book Folded Bunny – The Holiday Corner on Etsy
I'm a huge fan of upcycled book art and folded book art. This Book Folded Bunny is an adorable idea for a gift – for the young or older. It's meant for decoration, and I just adore that little egg sticker that gives it some more color.
Book Folded Bunny (choice of primary color)- FoldedBookstheEcoWay on Etsy (based in the U.K. – ships to the U.S. too though).
Here is another Book Folded Bunny – you get to choose the primary color for it too. This is another Etsy shop in the U.K. who does ship to the U.S. as well. I wanted to give my U.K. readers a couple options for their Easter gifts for bookworms.
Pastel Easter Eggs & Sprinkles Resin Bookmark (a few options available) – The Sparkling Quill on Etsy
I'm a little obsessed with resin these days. They make such beautiful items – including bookmarks! This is a Pastel Easter Eggs & Sprinkles Resin Bookmark but they have some other Easter-ish options. Of course, they also have plenty of non-Easter bookmarks.
Book Page Eggs (set of 3, wrapped in Shakespeare plays, and you can get it with or without the bow)- Vintage Farmyard on Etsy
These book page eggs are adorable! You can use them in Bookstagram photos, put them on a tiered tray, etc. So many options! It's wrapped in Shakespeare plays and you can get them with or without the bow. I love that it comes in a set of three!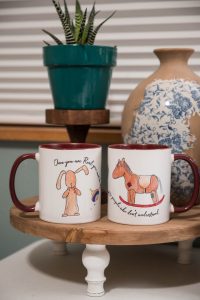 Velveteen Rabbit Book Quote Mug – A Fine Quotation on Etsy
One of my favorite Etsy shops, A Fine Quotation, has an adorable Velveteen Rabbit Book Quote Mug. Gift this mug with some chocolates – or even a copy of the book! 
affiliate link for the book; I get a small % of any sale*
1 Book Page Easter Chick and 6 Book Page Easter Eggs – KaisKreations on Etsy
Like I said, I love when people turn old books into fun new things. Here you can get 1 Book Page Easter Chick AND 6 Book Page Eastr Eggs. Put them all in a basket for some fun decor, place them around the house, or even use them as Instagram props!!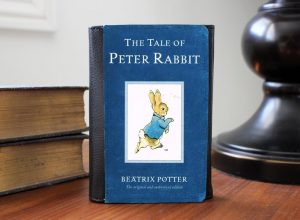 The Tale of Peter Rabbit Book Cover Trifold Wallet Clutch (choice of blue or gray book cover) – The Old Curiosity Shopp on Etsy
Finally, we are back to Peter Rabbit. This is a Book Cover Trifold Wallet Clutch. The cover is blue here, but there is a gray option too. I love this idea for tweens or teens. It's a little more grown up but it's still a really fun and unique Easter gift.
Do you like any of these Easter gifts for bookworms? Let me know if you purchase anything!!