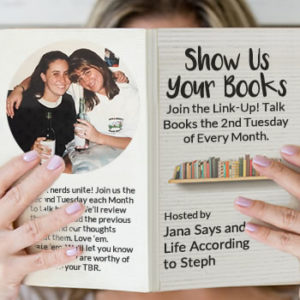 Show Us Your Book is hosted by Jana and Steph – come find some new books to read!
I've been reading like a maniac lately, though I'm not ready to share reviews for every single book. Regardless, I wanted to take part in the link-up so I'm here to share some brief thoughts on a few of the books I've read lately. So far this year I've read 24 books – which is just crazy to me! How many have you read?
*any purchase links are affiliate links for me; I get a small percent of any sale at no extra cost to you and you get to support independent bookstores*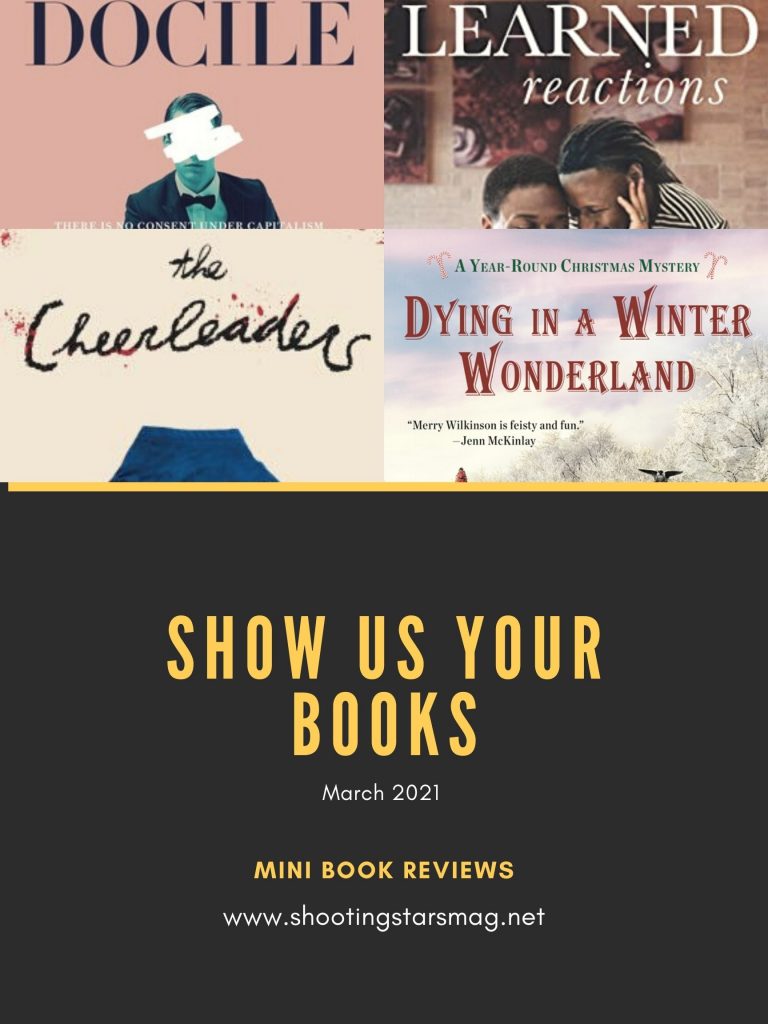 Show Us Your Books: March 2021
I'm co-hosting the Read the Alphabet challenge so each month, I focus on books that begin with certain letters of the alphabet. February was C and D, so here are some of the books I read. I'll post reviews for the rest soon!
The Cheerleaders by Kara Thomas
I love a good mystery and Kara Thomas is one of my favorite YA mystery authors. I've read all three of her books – The Cheerleaders being the most recent release. The book follows Monica whose sister committed suicide years ago…the same year that four other cheerleaders died. New information makes Monica believes that the story they were all told wasn't necessarily the truth. Could it be that the murderer is still out there? Could it be that Monica's sister was murdered too? I really enjoyed this one and read it fairly quick. It kept me wondering and guessing, and I loved the various breakthroughs and twists revealed throughout the book. I'm ready for another Kara Thomas book!
View this post on Instagram
Death on the Nile by Agatha Christie
I'm doing the Read Christie 2021 Challenge with some Bookstagrammers and this was our Februry choice, and it happened to start with the letter D so it worked for my challenge! I'd never read this one before but I really enjoyed it. Forewarning, there are a lot of characters…and it's a bit of a slow start. Once it picks up though, it really picks up and I found myself reading nonstop to figure out who done it and how. Some of my fellow Bookstagrammers said they figured out the who but the how was still a shock, so it's definitely worth a read!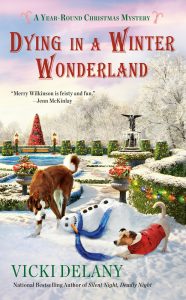 Dying In a Winter Wonderland by Vicki Delany
I'm a big fan of cozy mysteries, and I really need to make more time for them. This series is by far my favorite though. It takes place in Rudolph, New York aka the Year-Round Christmas Mysteries. I love that each book has its own individual mystery but the books build on each other in terms of character development. Main character, Merry, is thrust into a murder investigation in this latest – the 5th in the series – because her brother is a prime suspect and she just knows he wouldn't kill someone. I actually guessed the culprit in this one, but I don't always, and it's still a fun read regardless!
I've been reading this series for years now, and I love them all, so I highly recommend. I even have my mom reading them – she's almost finished with the third.
Docile by K.M. Szpara
The tagline for this book is "There is no consent under capitalism" which definitely makes you sit up and take notice. I really loved this book but I'm warning you now, it's not for everyone! The book takes place at an indeterminate time in the future. People can become dociles to work off debt…essentially, they are becoming some form of a slave. Most of them do hard labor but some with a lot of debt are purchased by the really rich to be companions, sexual and otherwise. To get through this, everyone can take dociline which makes them compliant and when they are finished with their term, they don't remember anything that had occured. Easier said than done of course. Elisha becomes a docile for Alex, whose family invented dociline. However, Elisha refuses to take the drug and therefore, Alex has to work harder to "break" Elisha – aka make sure he's a perfect, compliant companion.
Yeah, intense to say the least. It's a fascinating look at the debt crisis in America. It obviously deals a lot with consent and what that means and who can give it and when. It's easy to hate Alex throughout the book, but it's not that simple. I felt all sorts of emotions reading this. I know from other more negative reviews that people were upset by the sexual moments between Elisha and Alex, since it's rape, and it's obviously not written to disgust you (most of the time at least). I think it makes its point though  – you're reading this and you shouldn't enjoy what's happening, but you do sometimes. It's like they are a couple…you have to keep reminding yourself that Elisha may be lucid, but he's not free. This is a hefty book, in size and content, but it kept me reading.
I definitely would not recommend for anyone who has experienced sexual assault as I'm sure it's very triggering in that regard. 
***
Again, I'll have a couple more reviews for the Read the Alphabet challenge up on the blog soon. I read a lot of C and D books last month. Right now, though, I'm going to share some reviews for books I received from Netgalley. Thanks to them and the publishers for the copies, and all opinions are – as always – my own.
Best Laid Plans by Roan Parrish
Roan Parrish is one of my favorite authors, so I was excited to read Best Laid Plans – the second in the Garnet Run series. They're companion novels, so you can skip the first if you really wish to. I read and liked Better Than People, but I loved Best Laid Plans even more. It follows Charlie Matheson and Rye Janssen. If you've read Better Than People, then you know Charlie as the brother of Jack. Most of Charlie's adult life has been spent working hard and taking care of his brother since their parents passed. He never really allowed himself to explore his sexuality or fall in love. Not until Rye blows into town, having been left a dilapidated house from a grandfather he never knew.
I really loved the relationship between Rye and Charlie. Rye is used to hopping from couch to couch, never really settling down or feeling at home. He's a bit prickly at first, but it doesn't take him too long to realize that Charlie might be a bit bossy, but he means well and he genuinely wants to help. It was lovely seeing Charlie finally find someone for himself, after always talking care of others. I also really loved that they both have cats that became best friends! This is a good one for animal lovers – as is Better Than People! I'd read more about Rye and Charlie if it was an option.
Unforgotten by Garrett Leigh
This is another author that I've had good luck with, and that continues with Unforgotten. This is the second in a series, but the books are companion novels so I never felt like I was missing anything that big. Unforgotten is about Billy Daley and Gus Amour. With nowhere else to turn, Billy comes home after running away from his past pain for years. He's not comfortable living with his brother, so he becomes roommates with Gus, his brother's best friend and employee. It just so happens that Billy and Gus have kissed before…and neither of them can forget it. Obviously, it doesn't too terribly long before the sparks are flying again. Billy's not as experienced as he seems though, and he doesn't want to lose Gus' friendship. As for Gus, he's so used to using sex to numb his pain, he doesn't want to unintentionally hurt Billy.
These two have been through a lot and neither are terribly great at sharing their actual feelings. Billy acts out and Gus buries his emotions so he can always be the steady one. Living, and working, together brings them closer together and eventually they have to be open and honest if they want any semblance of a relationship with each other. Overall, this is a character focused book. It's a romance, but it's also about family and coming home again. It's definitely one I'd recommend; I read it really quick!
Turn by Erin M. Grillot
This was an interesting book. I gave it three stars, because while it's not bad, it also felt a bit anticlimactic in a lot of ways. Nathan works for something called Department 5. You are never really given a ton of details, but it involves life or death decisions often in other countries. These type of decisions are ones that Nathan often has to make and while those with higher morals might balk, Nathan is good at his job. He's not so great with relationships. Enter Eli, who is a new employee and determined to get close to Nathan. Now the lack of real detail around Department 5 would have been fine if this was more of a romance, but it's really not. It's a romance for a bit, and then a crash and burn, and then a possibility of…well…more. I'd be curious to read whatever the author does next, but I can't say this one is a personal favorite.
Learned Reactions by Jayce Ellis 
This is the second in the Higher Education series, but again, they're companion novels so I didn't feel lost jumping in here. I have to say that this was a well-written friends-to-lovers romance and I love that pretty much all the main characters are black. We need some more diversity, in all genres! Deion and Carlton have been best friends since college, and despite hooking up once, they've stayed that way. Deion wishes it could be more, but he doesn't want to push and lose Carlton altogether. In the beginning of the book, Deion is in Chicago and Carlton is in D.C.; the latter invites his friend for homecoming since he's on sabbatical and hiding his feelings is even harder when Deion is face-to-face with the one guy he compares everyone else to.
Near the end of Deion's trip, Carlton's niece shows up on his doorstep and Deion is asked to stay until things get a bit more settled. This leads to the two of them getting even closer, especially when they fake a relationship in order to impress the social worker reviewing their case (Carlton is working to adopt his niece). I loved the two together, because it's obvious how good of friends they are and that they could be fantastic as more. Carlton's relationship with his niece is adorable, and I loved seeing them open up and get to know each other better. Deion is great with kids, and it's easy to see them as a full-fledged family…if only Carlton can get it together and admit his feelings to Deion! You know they'll get there eventually though, and it's heartwarming to watch their journey.
***
I have some fun posts and giveaways I want to make sure you don't miss out on, if you're interested!
Happy Easter, Bookworms! Easter Gifts for All Ages
Lauren Does London: Harry Potter Studio Tour
$20 Item of Choice from Uncommon Goods (U.S. only) – ends March 15
$10 PayPal (International) – ends March 16
A copy of Finlay Donovan is Killing It and a Go Away, I'm Reading candle (U.S. only) – ends March 12