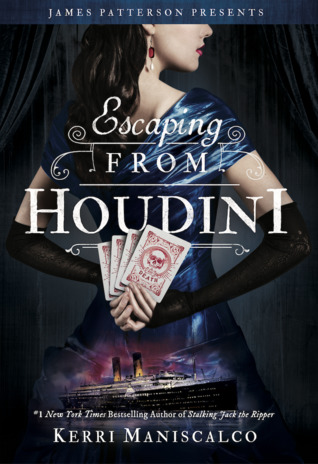 Escaping from Houdini is the third book in the Stalking Jack the Ripper series by Kerri Maniscalco. While I didn't love this one quite as much as the other two, I still really enjoyed it and I cannot wait for the fourth and final book.
Audrey Rose and Thomas Cresswell are back in Escaping from Houdini - check out my #bookreview #ontheblog
Click To Tweet
Aboard the RMS Etruria
Not long after the events of Hunting Prince Dracula, Audrey Rose Wadsworth and Thomas Cresswell have boarded a cruise ship headed toward New York in Escaping from Houdini. Unlike modern ships, however, those aboard RMS Etruria are not used to cruise entertainment but that's exactly what they will be getting every night they sail.
The Moonlight Carnival is led by the fascinating Mephistopheles, who like the rest of his carnival compatriots, always wears a mask. While the carnival is full of fascinating acts – trapeze, stilt walkers, knife throwing – it is overshadowed by grisly murders that occur from the moment the ship sets off.
Houdini, You Say?
Escaping from Houdini does indeed feature Harry Houdini. I liked that he was a character in the book and readers get to see him start to perfect some of his death-defying escape acts as part of the Moonlight Carnival. It's pretty obvious from the start that one of the carnival performers is probably the killer, especially since the bodies seem to be posed as tarot cards, or have tarot cards left on them. Obviously, this would include Houdini, and he definitely holds some secrets!
Ah, Young Love…
I'm not always the biggest fan of romance in books. I feel like it can overshadow the rest of the book if it's not a romance-centric book. In Stalking Jack the Ripper and Hunting Prince Dracula, I loved that Audrey Rose and Thomas became closer in terms of their romantic relationship, but also as partners when it comes to detective and post-mortem work.
However, in Escaping from Houdini, I think the romantic aspect became a bit too much…and it wasn't even with Audrey Rose and Thomas, which after two books, probably would have worked for me! No, Miss Audrey Rose finds herself pretending to fall for Mephistopheles to learn more about him and the carnival, but she starts to confuse fact from fiction and isn't sure how she feels after awhile.
I can see how Mephistopheles could charm Audrey Rose, but I also got a bit frustrated by how easily swept along she could be sometimes…and that she didn't trust in Thomas as much in this book. Part of it made sense (the book explains), but other times I just wanted the two of them to somehow communicate more! This is probably my biggest issue in the book, so overall, it was a really great novel.
So Much Death!
As for the actual mystery, I thought it was really well done. I obviously can't speak for everyone, but I didn't figure out who-done-it until it was revealed and I thought it all made sense and came together well. I liked the tarot card touch; it added a sense of mysticism to the whole ordeal.
Also, as the title says, there was so much death! This book doesn't just have one or two bodies – murder definitely abounds on this cruise ship! It made it that more suspenseful because you never knew what would happen next! Plus, someone that Audrey loves ends up in the clutches of the killer and she has to make some big decisions to figure out how to get them back…alive and well.
Give Me Book Four
I just have to finish this post by saying that I am so ready for book four. Yes, yes, I know the third book is just coming out (tomorrow actually, so get your copy ASAP), but I'm very much curious to see how this series ends. And if you haven't read Stalking Jack the Ripper and/or Hunting Prince Dracula, I hope you do soon! It's a favorite series of mine!