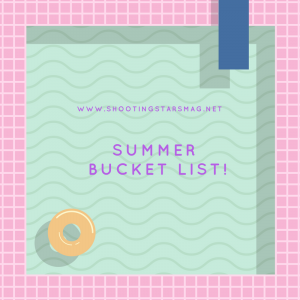 It's been a month since I last updated you on my Summer Bucket List, so I'm back with the final update! Granted, I still have time to do so some of these, but I think I did fairly well!
Swim at Night: Yes, a few times!
Paint All My Nails: No!! But again, I have some more time to get this finished, so *fingers crossed* I get on it.
Read Winter by Marissa Meyer: Yes, and I loved it!
Celebrate My Blogoversary: Yes, I'm doing that this month. A couple giveaways will be coming, but for now, you can see my 11 Favorite TV Shows/Movies and 11 Favorite Songs in honor of 11 years of blogging!
Summer Bucket List 2018 - a recap of what Lauren's done, and what she still hopes to do #ontheblog #summerbucketlist
Click To Tweet
This was the summer bucket list I created for this link-up, but I also made a Summer Fun from A To Z list. I'm not going to share the whole list, but the things I've done —
*went to library book club
*did at least one library craft event
*dance recital
*eat outside (a couple times)
*attended some Cincy area festivals
*celebrated my sister's birthday
*saw Niall Horan and Maren Morris live – concert review 
*saw a couple outdoor movies
*did a wine/paint night (minus the wine) with my mom
*went to one Pride event
*did lots of reading – and swimming!
*went to King's Island Water Park a few times
*wedding planning for my friend – a bit, but I got my dress, so yay!
Whew- I think it's been a really nice summer. Granted, I still have a month left to get in some last minute summer adventures like actually painting my nails! And maybe even doing a picnic in the park!
How has your summer been going? Let me know in the comments! 
Check out the other blogs on the link-up: