Happy Friday! We made it through another week. I haven't done a Five Things Friday post in awhile, so I figured it was time to share some favorite finds. Today is also the second Friday of the month and therefore it's time to link up for Glossies Made Me Do It. Therefore, I'm going to share five things that I've found in magazines lately that I'd like to try or learn more about!
One: Lightweight Shirt from EV1 (found in O magazine)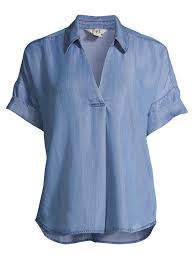 I saw this shirt in Oprah's magazine O, one of my favorite magazines! It's a lightweight shirt from EV1, which is a line from Ellen DeGeneres through Walmart. This shirt is only $21! She has a ton of other fun, affordable options too, so I definitely think I need to get something from her line very soon!
Two: Tip Off (found in Health magazine)
Tip Off are liquid-filled makeup removing swabs from alleyoop. You can get a pack of 24 swabs for $8 on their website. How awesome is this though? I know I'm not the only who has made a mistake with their makeup and wished there was an easier way to get rid of it than re-doing your whole face, etc. These would be so handy! Plus, if you're thinking Christmas (hey, it's Christmas in July), these would be fun Secret Santa gifts or stocking stuffers.
Three: Bibicharger (found in Real Simple magazine)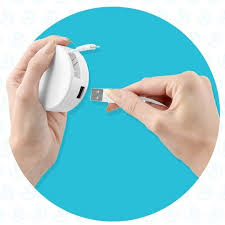 This little charger is super awesome for travel or just to throw in your bag. It has a retractable cord so you don't have to worry about tangles! The prongs are retractable as well, so it basically folds up into a small circle. Pretty cool, huh? They have options for Apple iPhones and Samsung Galaxy.
Four: Bibliotherapy (learned about in Real Simple Magazine)
Bibliotherapy is exactly what it sounds like – using books as therapy! There was a whole article in Real Simple magazine about this topic, and it was so fascinating. I'd never heard of the term bibliotherapy. While it's not meant to take the place of actual therapy for serious issues, the idea is to use novels to help with different life experiences and emotions. I feel like most bookworms do this on some level when reading a book, but I love the idea of filling out what you're looking for/need help with and having experts curate a list of books for you to then try.
According to their website: In a consultation with one of our bibliotherapists, you'll explore your relationship with books so far and your unique readerly identity will be sketched. You will be guided to books that can put their finger on feelings that you may often have had but perhaps never understood so clearly before; books that open new perspectives and re-enchant the world for you.
Now I just want to know – How can I become a bibliotherapist?!
Five: Aquis Rapid Dry Hair Turban (found in People magazine)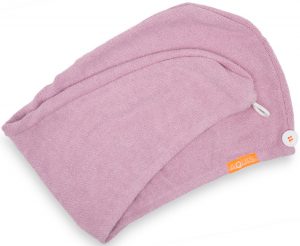 You put your hair up in this turban after you get out of the shower and it helps it dry quicker and reduce frizz. I hardly ever blow dry my hair, and I definitely deal with frizz, so this sounds like a really awesome product for me! There's also a variety of color options, which is nice! They have other products too, so definitely worth checking out.
***
Before You Go–
Did you see anything you're interested in above? Let me know in the comments! I also wanted to remind you about some fun giveaways I'm doing-
Think Outside the Box– tour wide giveaway for a chance to win a copy of the book and a grand prize of a tablet!
Summer Reading – points for every book you read, U.S. only and International prizes available. Giveaways specifically for kids, teens, AND adults.
Pinatagrams – win your very own pinatagram, or mini pinata! It comes filled with candy too.
Memories of Home Traveler's Notebook – document your summer with this fun journal/scrapbook that's already decorated for you! Just add your notes and photos.
I have more giveaways on the way this month, so please do follow my blog so you don't miss a thing!
Linking up for Friday Favorites: A Little Bit of Everything
If you have your own Glossies post this month, please link up here!
You are invited to the Inlinkz link party!