I never gave an update on my Holiday Activity Bucket List, so here we go!
Host my annual Cookie Exchange party (yes, and it was a lot of fun!)
Drive around and see Christmas lights (Not as much as I wanted to, but yes, I did!)
Watch as many Holiday movies as I can (Definitely! I still have some taped that I DO plan on watching this Winter)
Make a holiday themed craft (You know…I'm not sure I made anything holiday themed.)
Make a Gingerbread house (Yes, I made a small house at my Cookie Exchange Party and then I worked on a couple houses for a village that my mom, sister-in-law, nieces, and nephew all made)
Mail Christmas cards (Yes, I did!! I still have a few Christmas gifts to send, but hey, who doesn't like belated presents?)
That's a 5/6 for my Holiday Activity Bucket List! Not too shabby!
Now let's move on to the Winter Bucket List: First Update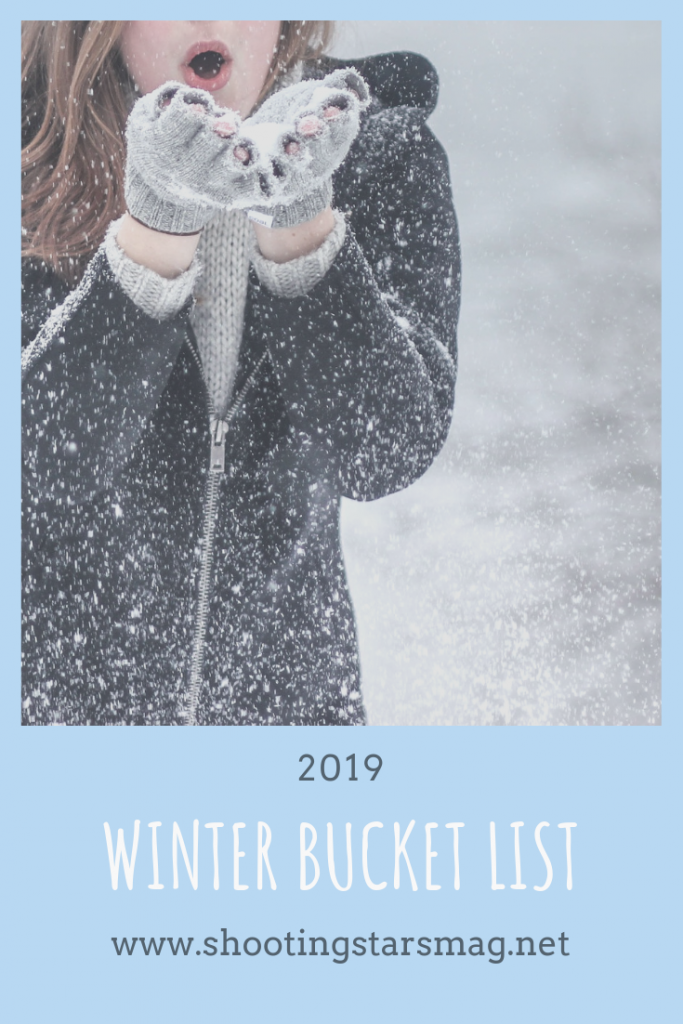 I didn't put too much on my Winter Bucket List, so I haven't really crossed off much, but let's take a look anyway.
Winter Bucket List: An update #ontheblog! Do you have a Winter Bucket List; how are you doing? #winterbucketlist
Click To Tweet
Print out London/Harry Potter pictures and figure out if I'm doing one scrapbook or two. So I'm pretty sure I'm only going to do one scrapbook, but I haven't actually printed anything off yet, so I'm not crossing any part of this off.
Go to a Cincinnati Cyclones game.  Not yet, but I have tickets for their Wizarding World night (my sister got them for us for my Christmas gift) and I can't wait!!
Read 2-3 Christmas/Winter books. Christmas might be over, but that doesn't mean I can't still enjoy these Christmas/Winter themed books. So far, I've only read Hark the Herald Angels Slay by Vicki Delany, so that's about half a point for this one!
Watch Bird Box on Netflix.  Yes! I just watched it over the weekend and I really enjoyed it. I'll have more on the movie later this week.
Start Losing Weight Again. I see my weight loss doctor later today, so I'm not sure where I'm at right now. Hopefully I'm around the same if I haven't lost anything, but I'm working on losing!!
My final score is 1 1/2 out of 5! Not too shabby since it's only been a month of Winter so far. Losing weight is a process, but hopefully by next month I can say I'm doing this. My Cyclones game isn't until March, but I do hope to start printing photos soon and reading more Christmas/Winter books!
Do you have a Winter Bucket list? How are you doing so far?
Link up with us!