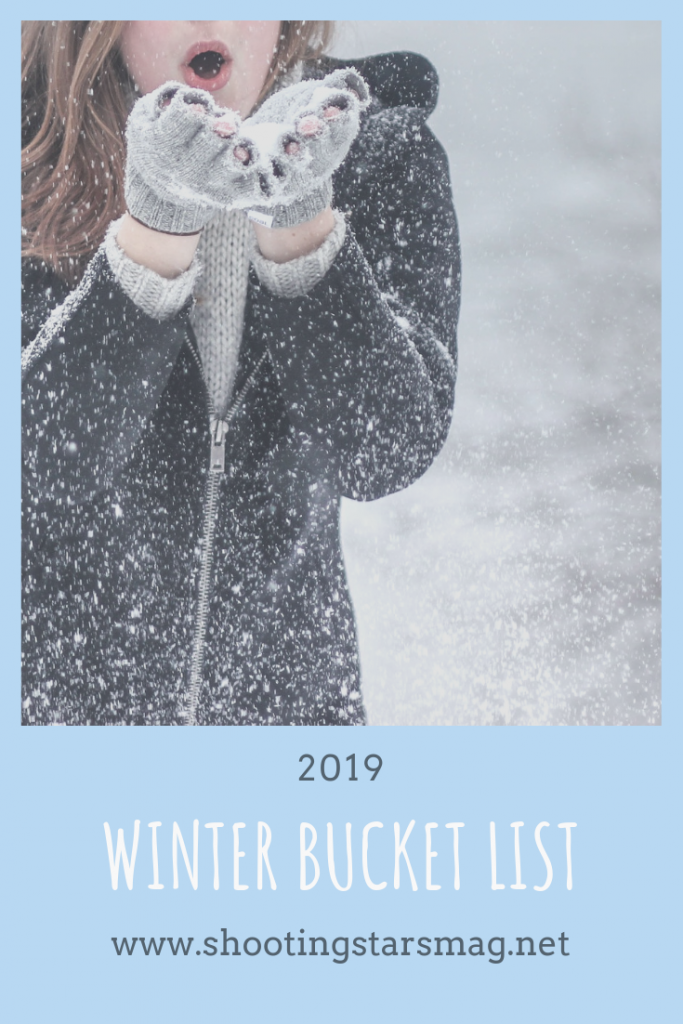 Happy Winter (unless you're somewhere like Australia, then Happy Summer)! While today is the official day of Winter, I still put 2019 Winter Bucket List on my image above because most of the Winter takes place in the new year. If you're new to these posts, I join a group of bloggers in creating and sharing seasonal bucket lists. I added some Winter items on my Fall list, since I knew Fall went until December 20, and I also made a Holiday Activity List, so here's the "leftover" things I hope to do this Winter.
Fall Bucket List – The Final Update
I already did one update post for my Fall Bucket List, which you can find here, but I wanted to let you know how I fared this past month! If you just want my winter bucket list…keep scrolling!
Last month, I had 6 out of 14 accomplished…let's look back at the ones I still had to do.
Go to Serendipity 3 when I visit NYC in November: Yes, and I will definitely be writing about this, though probably not until January.
Go to WinterFest at King's Island: Yes, I went once and it was fun. I got to decorate cookies again.
Visit the Cincinnati Zoo and see the lights: Sadly, no. I wanted to go yesterday but it was raining. I still hope to make this happen, but time is running out.
Make Christmas cookies: I didn't make cookies (unless you count decorating them) but I DID make Christmas Crack Toffee which was amazing. I'm still counting this!
Start working on my London/Harry Potter scrapbook: Nope, but I think I'm going to adjust this for the Winter Bucket List and break it down into steps.
Watch a movie outside: I had planned to but it didn't work out!
Paint my nails a fun Fall color (since I didn't do this in the summer!): I'm counting this, even though it was more holiday-esque than Fall (but then again, green is a Fall color). I talk about my nails – and show off the fun color- in my latest Glossies Made Me Do It post.
I didn't include one of my items here because it was Fall related, and since I didn't do it then, there wasn't a way to make it up, so my final count is…
10/14
I only missed four, and one is still something I hope to make happen, so not too shabby! Moving on to my Winter Bucket List now, but feel free to share how you did on your own Fall bucket list items in the comments!
Winter Bucket List
Print out London/Harry Potter pictures and figure out if I'm doing one scrapbook or two. I think this will actually get accomplished since I'm breaking down the steps. I'm not necessarily starting the scrapbook, though I'd love to, but getting all the pictures ready to go is a big step.
Go to a Cincinnati Cyclones game. This is Cincinnati's ice hockey team and it's one sport that I love watching in person, so I definitely need to make it to at least one game this Winter.
Read 2-3 Christmas/Winter books. I have a list of Christmas-related books that I really want to read, and since I won't get them all finished before the actual holiday, I'm just going to give myself all Winter to enjoy them.
Watch Bird Box on Netflix. I love the book Bird Box and the movie version actually comes out on Netflix today, so it counts as a Winter item! Plus, I'm not always the best at watching movies and TV shows (even when I want to), so it's a goal!
Start Losing Weight Again. I've been fluctuating a bit, and these holiday treats are not helping, so this Winter I really need to get back on track. Dance classes will start again, but I also need to find other ways to be active (especially in the cold) and eat a lot better. I don't have a set goal of the amount I want to lose, as long as I'm losing and feeling better again!
Alright, I'm going to leave it at 5. It's not a lot, and I'm sure there are lots of other things I'd like to do this Winter, but I think it's good not to over-do it too much. With 5, I will hopefully succeed at fulfilling everything, especially that last one, which can be tough.
2019 Winter Bucket List: What do you hope to do this Winter? #ontheblog #winterbucketlist
Click To Tweet
What about you? Do you have a Winter Bucket List?
Share in the comments, or do a blog post and link up below!