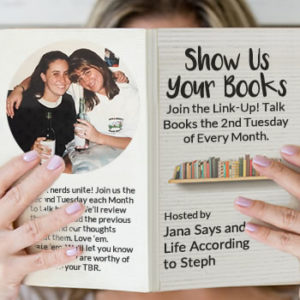 It's time for Show Us Your Books with Jana and Steph! Come see what we've all been reading.
As usual, I'm going to share mini reviews of books I've read that I haven't shared yet and link you to longer reviews that I've already posted on the blog since the last link-up! Let's go! (all purchase links are affiliate links; I get a small percent of any purchase at no extra cost to you – plus, you're supporting independent bookstores!)

Six Angry Girls by Adrienne Kisner (copy for review; all opinions are my own)
I really enjoyed Six Angry Girls. I loved the diversity with all the girls on the Mock Trial Team. The actual book follows the perspectives of Raina and Millie, who create the all-girls Mock Trial Team together. Millie had already been on the team – the sole female – until they kicked her out. Now she's taking it back. Raina is an actress who isn't sure if that's what she loves or not. Raina also finds a really cool knitting shop, full of women of all ages. I thought the politically-involved knitting club aspect of the book wasn't as fully formed as it could be, but it's a minor quibble. 4/5 stars!
Six Angry Girls comes out on August 18, so you can pre-order it now!
View this post on Instagram
All Eyes On Her by Laurie Elizabeth Flynn (copy for review; all opinions are my own)
"You heard the story on the news. A girl and a boy went into the woods. The girl carried a picnic basket. The boy wore bright yellow running shoes. The girl found her way out, but the boy never did…."
This. Book. It's so good, but it's also a book that makes you mad in parts. I definitely want to discuss it with people, so I highly recommend giving it a read! I actually read and shared this in June, when I thought it was being released, but I guess it got pushed back to August.
Here's some of what I wrote on Instagram: All Eyes On Her by L.E. Flynn is a YA mystery that I absolutely loved. I seriously devoured this book as quick as I could. Tabby is on trial before she's ever arrested for the murder of her boyfriend, Mark. People think they know the whole story, so they paint her as a villain— or the victim. One thing I loved is that you don't get Tabby's point of view all that much. It really is about all eyes on HER. Instead, we hear from Mark's best friend, Tabby's sister and best friend, a classmate of Tabby's, and more. Are we getting the whole story here though?!
I found this to be a really captivating and interesting mystery! I loved the different newspaper and blog articles throughout too, adding more of a realism to the story.
All Eyes On Her comes out on August 18, so you can pre-order it now!
Boyfriend Material by Alexis Hall (won an ARC; all opinions are my own)
Basically, the book follows Lucien, son of two former rock stars, who needs a respectable boyfriend to keep his job. Enter Oliver. The two fake date to help each other out and of course— fall for each other!! It's set in England, it's full of fantastic secondary characters, it's funny and sweet and heartwarming and it's definitely a five star read for me!!
View this post on Instagram

The Guest List by Lucy Foley
I loved this mystery! You can read my full review here.
To get some of the ambiance of the book, press play on this video-
View this post on Instagram

With the Fire On High by Elizabeth Acevedo
Another really good read. I liked this one a bit more than The Poet X. I have her latest, Clap When You Land, to hopefully read soon. Check out my full review.
View this post on Instagram

Nevermoor: The Trials of Morrigan Crow
Nevermoor is SUCH a good book! It's been compared to Harry Potter and I can definitely see that but it also stands on its own. It might be marketed for middle grade, but I can see older readers loving this one too- like myself!! It's full of imagination and mystery and I loved all the characters!
View this post on Instagram

The Fell of Dark by Caleb Roehrig
Roehrig is one of my favorite authors, so it was fun to see him branch out and tackle something a bit different – this time, vampires are back! You can check out my full review here, but it's definitely a book I enjoyed!

Better Than People by Roan Parrish
An author I love, but a book I didn't love as much. It was still an enjoyable read overall though. Check out my full review here, and the book is released on August 25!

High Heat by Annabeth Albert
Second book in a new series (all books are companion novels). I enjoyed this one a bit more than the first, but it wasn't my favorite book by Albert. Still worth checking out if you're intrigued. You can read my full review here.

The Bookish Life of Nina Hill by Abbi Waxman
I adore books about books, bookstore workers, librarians, writers, etc. It makes me very happy, and The Bookish Life of Nina Hill made me SO HAPPY!
Things I loved – 
Nina works in a bookstore
Nina loves trivia, and she even plays on a trivia team
Nina (obviously) loves books
Nina loves (and has) a cat
Nina is a planner and has a physical planner!
So yeah, so much Nina on that list. I really loved the secondary characters too though!
View this post on Instagram

Murder As a Fine Art by David Morrell 
This is one of those books I've owned for years, and I'm so glad that I finally read it. It's a historical fiction mystery and I LOVE that it features a real person from history who becomes caught up in a fictional murder mystery, where they are the suspect (aka Thomas De Quincey, who I hadn't previously heard of). I know there are at least two more books in the series, and I definitely plan to read them!
View this post on Instagram
Before You Go—
1. Have you read any of these books, and if so, what did you think? Are there are any books you want to read from my list?
2. Don't forget to enter my current giveaways – you can find links in the right hand sidebar. The Summer Reading Prize Packs give you points for reading books, so every single one of you should be entering (U.S. only though, I'm afraid). There's a prize pack for Adults, Teens, and Kids, so family is welcome to join!!
3. If you missed my post from yesterday, come check out the Upcoming Books I Want to Read.