As soon as my trip to London was a definite "go", I knew that I had to do the WB Studio Tour for Harry Potter. This is a must for any big Harry Potter fan, no matter what age you are. I went with my sister and we got our tickets through Golden Tours. We met up at a designated spot in London with other fans going to the Harry Potter studio tour and we were all loaded onto a bus to take us to Leavesden.
please pin the below image to help me spread the word! 
I think the Golden Tours bus is a great way to travel because you don't have to worry about getting there and back. There is a limited amount of time to do the tour and shop before the bus leaves, so if you're someone who can take hours, you might want another option. My sister and I felt like we had more than enough time to really take everything in and enjoy ourselves. Another thing that I really loved about the bus is that they played the first Harry Potter movie so you could watch that while you traveled to the studio.
View this post on Instagram
Once there, you wait in line for your turn and you are taken into a theater. There is a video that plays with Dan Radcliffe, Emma Watson, and Rupert Grint (Harry, Hermione, and Ron in the films) and the video ends with them opening a set of doors – which are right behind the screen. It's time to enter those doors and begin the tour!
View this post on Instagram
This tour is not guided; depending on how much time you have, you can go at your own pace. There are all sorts of things to look at from costumes to props.
View this post on Instagram
I loved that some sections were created to look like a set – such as the Weasley kitchen or Snape's potions. Props are moving as you watch, and it's almost like being there yourself and witnessing true magic. I definitely took a lot of photos and videos while doing the tour.
View this post on Instagram
The studio tour starts in the Great Hall, but the rest is not in any sort of order. Each room you enter has a variety of things to look and marvel at. There's a place where you can put your hand over a broom, yell "up" and the broom lifts to your hand. It's made more for younger kids, but I definitely waited in line to do it myself, and it didn't quite reach up to my hand. It was still fun though!
View this post on Instagram
Another cool aspect of the tour is that there is a Hogwarts Express that you can get on and walk through, with various compartments showing certain scenes from the films. It's not terribly big, and all you can do is walk through and peek into compartments, but it felt real and it was fun to be "on" the Hogwarts Express for a bit. There is even a trolley stuck halfway in a wall where you can pose for pictures as if you are headed to Platform 9 ¾.
View this post on Instagram
Close to the end of the Harry Potter studio tour is a cafeteria where you can get some food and drinks. I definitely got the butterbeer, which was really tasty! It was a nice way to rest for a minute and just relax.
View this post on Instagram
You leave this area and you are outside, which is full of all sorts of replicas. There's the Knight Bus that you can take pictures in front of, and there is part of the Dursley house where you can enter and see Harry's cupboard under the stairs.
View this post on Instagram
There is also a bridge that you can cross, which I believe is from the fifth Harry Potter film. Finally, you can ride on Hagrid's motorbike or get inside the Ford Anglia Harry and Ron take to school in Chamber of Secrets. This was fun, and it definitely made for some great photo ops.
View this post on Instagram
View this post on Instagram
View this post on Instagram
After all of this, you go back inside and find more props and information. I took a video of that small, baby looking Voldemort at the end of the final film. You pressed a button and he moved. It was so cool, but creepy!
View this post on Instagram
You can then enter a room that just has a huge replica of Hogwarts Castle. It was such an amazing thing to see and you could walk all around it and really see the details. During the holiday/winter they add snow to the castle, I believe, so that would have been really fun to see.
View this post on Instagram
There are definitely things added and changed throughout the year so even if you've been once, you can always go and do the tour again! I know I would if I was back in London!
View this post on Instagram
Of course, at the very end of the tour is the shop. There are so many things to buy: candy, clothes, blankets, wands, and more. This can definitely take up a lot of your money, so be careful with how much you spend.
View this post on Instagram
Definitely get a souvenir but watch how much everything costs before just grabbing things left and right. And if you have tons of money to spend? Then go at it! I got a Slytherin hoodie that I'm still always wearing, a chocolate frog that was fantastic, and a couple little items for friends based on their house.
After the shop, the Harry Potter studio tour is over. My sister and I still had time before our bus left so we went to hang out in the cafe at the front of the building. We got a snack and just rested before it was time to head outside and board the bus again. It took us back to where we'd left and from there, my sister and I made our way back to our hotel, tired but full of Harry Potter love.
Have you been to the Harry Potter studio tour? Would you ever go?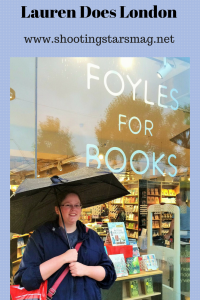 For more of my London adventures, please check out the following links-
3 Things to Know Before Riding the London Eye
5 Things to Explore in the London Dungeon
Harry Potter and the Cursed Child, Live in London
Visiting 221B Baker Street + the Sherlock Holmes Museum Shop
Charlie and the Chocolate Factory Tea at One Aldwych Hotel