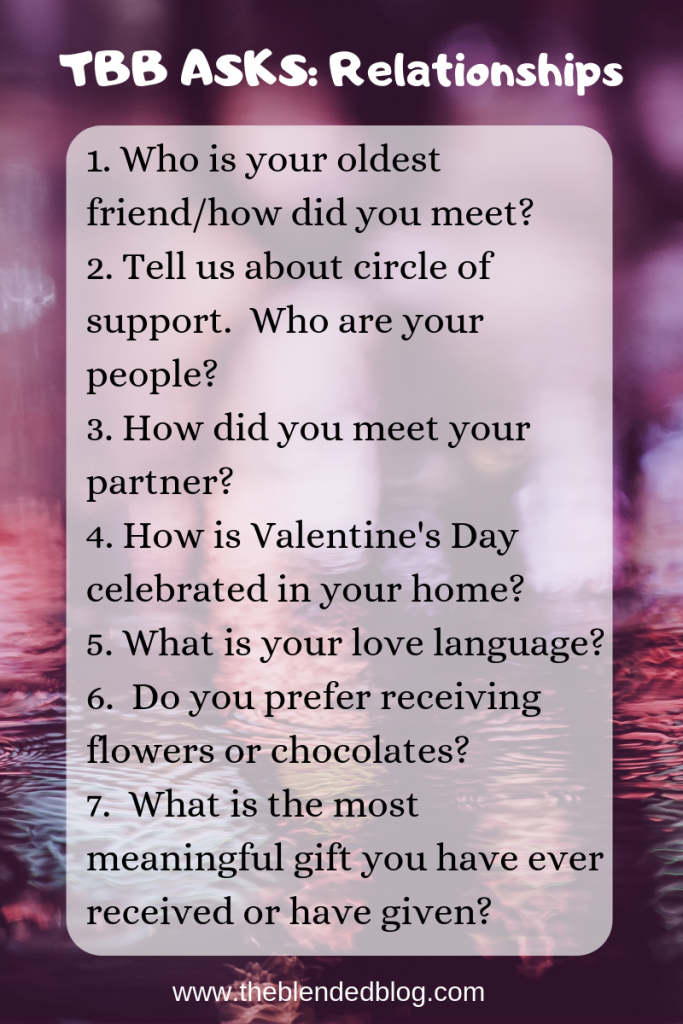 It's the Month of Love, and I'm here today with TBB Asks February Q&A all about Relationships! Feel free to "steal" this and share on your own blog – don't forget to link up on The Blended Blog!
TBB Asks: Relationship Edition #ontheblog #valentinesday
Click To Tweet
Who is your oldest friend/how did you meet? Well, technically, my oldest friend would be my sister so we met when I was born. However, I used to be in Girl Scouts for years and there are five of us total that still keep in touch and get together sometimes.

Tell us about your circle of support. Who are your people

? My mom and sister are some of my best friends, but I also have other really amazing friends that are always there for me.
How did you meet your partner? I do not currently have one!
How is Valentine's Day celebrated in your home? We don't really do much, as I'm not in a relationship. I like the idea of celebrating Galentine's Day (February 13) because I love all the women in my life.
What is your love language? The lovely Leslie helped explain the love languages on her blog, though I'd heard of them before. When it comes to showing love, I'm the one who gives gifts. I've always been that way. I like giving more than getting them most of the time. As for how I like to receive love? Probably a mix of words of affirmation and quality time.
Do you prefer receiving flowers or chocolates? Chocolates! Flowers are nice and all, but they just die…and chocolates are something you can at least eat!
What is the most meaningful gift you have ever received or have given? Like I said above, I love giving people gifts, and one of the things I've done a lot in the past is make scrapbooks. I gave one to a friend years ago, I've made two for my sister, and I even made one recently for my friend's wedding.
Feel free to answer any of these in the comments, or share on your own blog! Happy Month of Love!!