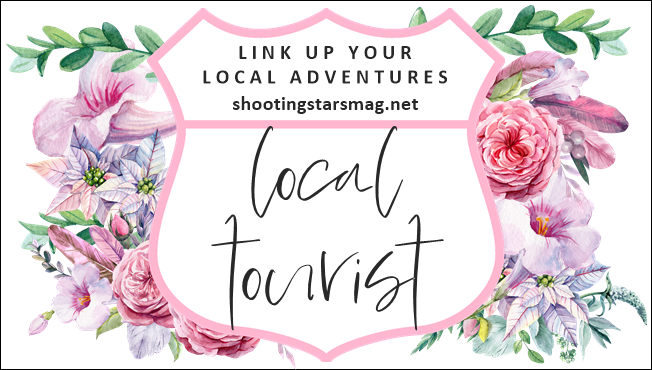 Local Tourist with myself and Dara from Not in Jersey. Gone on any local adventures in the past month? Link up below! I'm sorry I missed this link-up last month, but I'm here today to share a fun outing I went on with a friend in November. Please share your own adventures by linking up or commenting below.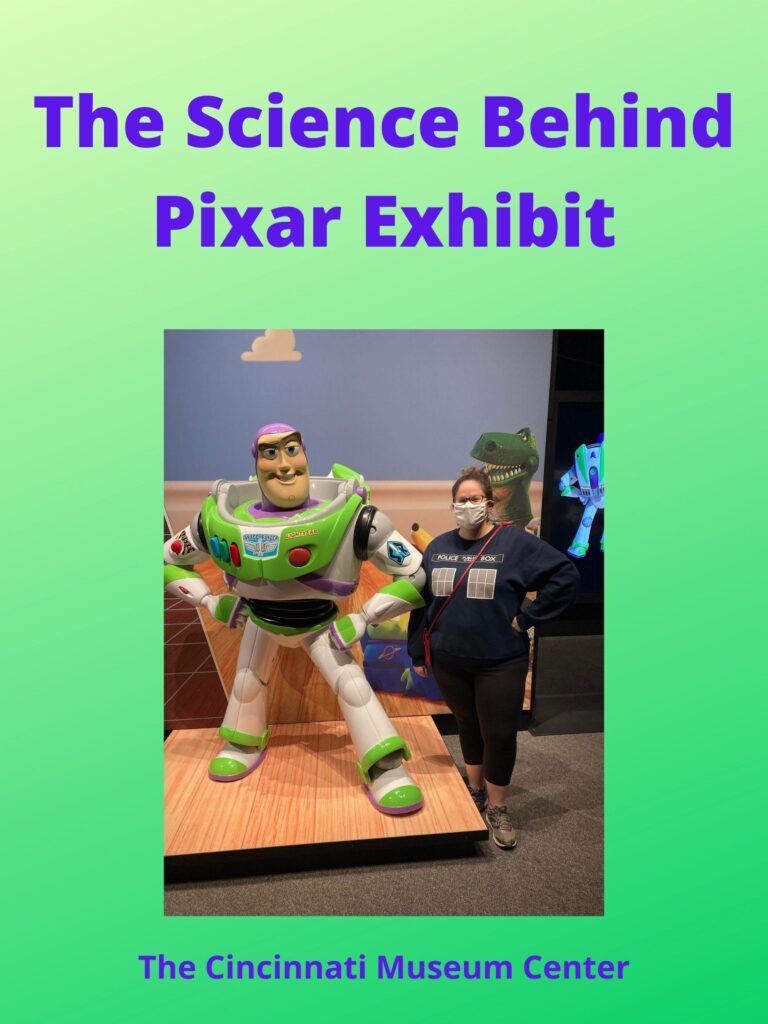 Local Tourist (November 2021): The Science Behind Pixar
As soon as I heard The Science Behind Pixar exhibit was coming to the Cincinnati Museum Center, I knew I had to go. Thankfully, a friend of mine agreed to check it out with me and we went on the morning of November, 26 (aka Black Friday). We ordered our tickets in advance (for 10.30 a.m.) so we knew what time to get there. It wasn't too crowded, but it was really filling up by the time we left, so definitely go earlier in the day if you can.
When we went in, there was a five-minute video that everyone watched together. It had a couple people who worked for Pixar, explaining the various steps that a movie goes through from a sketch on paper to the movie you see in theatres. It was really interesting, and it prepared you for all the  "stations" in the actual exhibit, showing you how various things worked in specific Pixar movies – lighting, rigging, and more.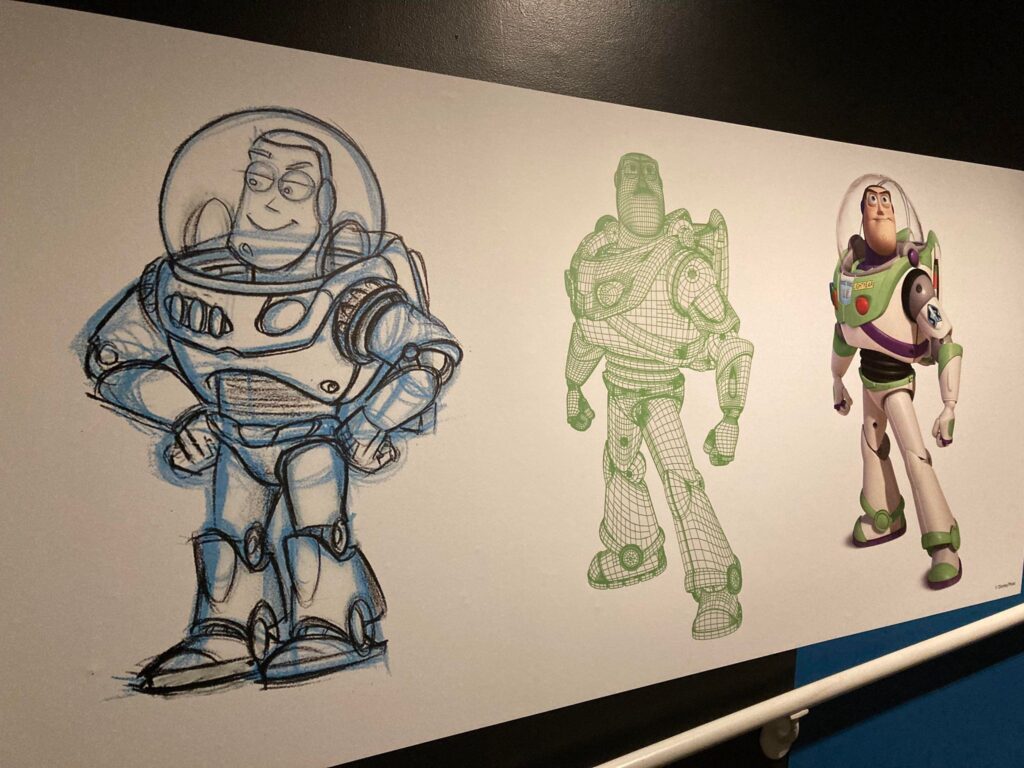 There were definitely a lot of families with kids there, but I saw other people without them, so definitely go even if you don't have children! The exhibit was one big room with the different stations, videos, etc, so you could walk around and check out whatever you wanted. There wasn't a need to go in any particular order, which is good, since you're in there with other people. You can go at your own pace.
While I walked around and saw everything, I didn't necessarily give each "station" as much attention. There were definitely certain areas that I found more interesting – especially if they had to do with Pixar films I personally love, like Up.
One of the things I loved about the exhibit were these little behind-the-scenes facts. The above photo gives you some information about color palette choices in the movie Up. I wish the exhibit had a bit more of these, but it definitely focused a lot on the science (and math) aspect. Definitely a great exhibit for any budding STEM enthusiasts.
I couldn't pass up a chance to pose with Buzz! Anyone excited about the Lightyear movie coming out? I'm a bit curious…but it will be weird that it's not actually Buzz, but the character he's based on.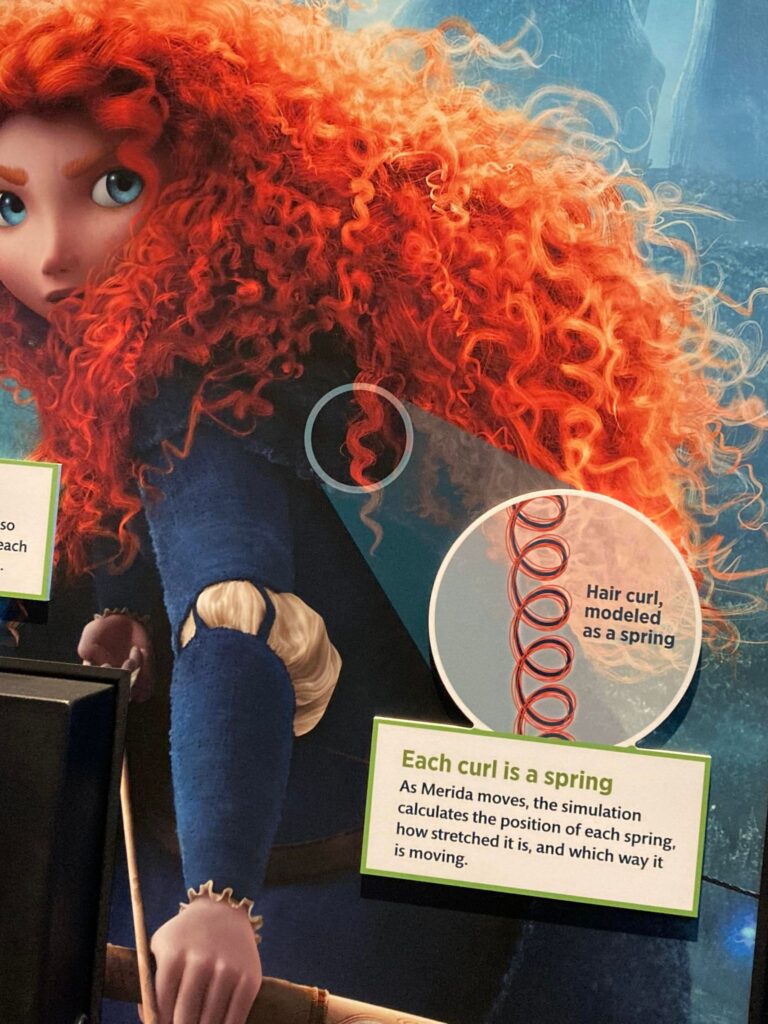 Another station was all about creating Merida's realistic, curly hair in the movie Brave. My friend and I watched a short video where they explained the different type of springs they used to create Merida's curls. It was very fascinating how something so "simple" really takes a lot of work and effort to make it look real.
Who here remembers A Bug's Life? I sometimes forget it was a Pixar film! They had a lot of information about how they created a bug's life, and I loved this little factoid-
I love how in-depth they got for the research; it makes me want to re-watch the movie ASAP and notice all the tiny details.
Not the most flattering photo of me, but I had to pretend to be an action figure! This was at the end of the exhibit, right before the gift shop. I didn't get anything but my friend bought a Christmas gift. They had some cute items for sale, though definitely a lot for kids!!
All in all, we both enjoyed our time at The Science Behind Pixar Exhibit. I do recommend checking it out, whether you have kids or not.
Would you go, or have you seen the exhibit in another city? What's your favorite Pixar film?
Link Up Your Own Local Tourist Posts Here-
You are invited to the Inlinkz link party!