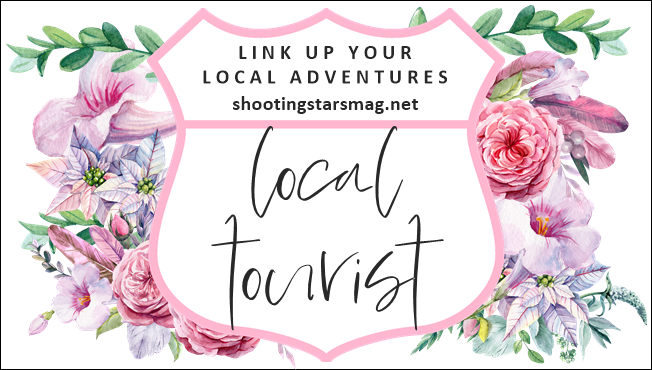 It's the final weekday in May and I'm here with Dara from Not In Jersey to share our monthly Local Tourist link-up. Obviously things are still crazy around the world, and I think most of us are sheltering in place and not really getting out to do anything. That makes being a local tourist a bit difficult…but those times will come, so I'm here today to share some local places I'd like to visit and things I'd like to do (when it's safer).
My Local Post-Quarantine Bucket List
I live in the Cincinnati, OHIO area so that's where I'll be focusing my interests today. Feel free to share what local tourist adventures you want to do where you live in the comments below – or make your own post and link up with us!
King's Island – this is an amusement and water park in Ohio. I don't know that they'll actually open this year or not, but I do love going – especially for their Halloween and Winter events.
Food Truck Festivals– I'm kind of obsessed with food trucks. Taste of Cincinnati has been pushed back to later in the summer – if it happens at all – but there are a lot of other events in the Cincy area that cater to just food trucks. Eating from a food truck just screams Summer to me, and I miss them.
Plays and Musicals: I had tickets to see the musicals Mamma Mia! and Anastasia, but obviously those didn't take place. Mamma Mia! was pushed back until next year, and I'm not sure what's happening with Anastasia yet, but I am dying to see that musical, so I hope it somehow works out. I also had tickets to see the play Murder on the Orient Express, and I believe that was just cancelled…if not, I'd like to see it in the future, because I think it would be a good one!
Live Concerts: I didn't have any tickets, but there were a couple shows I really wanted to see this summer. One was Niall Horan, who I'd seen live before and he's just amazing. I was also interested in going to the Chris Young concert. I know Niall cancelled his tour, but I don't know about Chris.
Library Book Club and Craft Events: Book club has been moved to Zoom and craft events are going to be Take & Make, but I miss being with my people in the actual library!! I was at my local libraries almost every single week, so it's been a weird adjustment. I am trying to be crafty at home though with my new feature CoronaCrafting.
Outdoor Movies: While the drive-in has opened (I haven't been yet), I miss all the summer movies in the park. It's fun to go hang out and see an old favorite, or even something you've never seen before. Past movies I've seen in the park include Mean Girls, Little Shop of Horrors, Elf, and more.
Tell me: what are some post-quarantine outings you'd love to go on? Things you miss this year but hope to do next year? Share in the comments!!!
If you have your own post, link up with us:
You are invited to the Inlinkz link party!