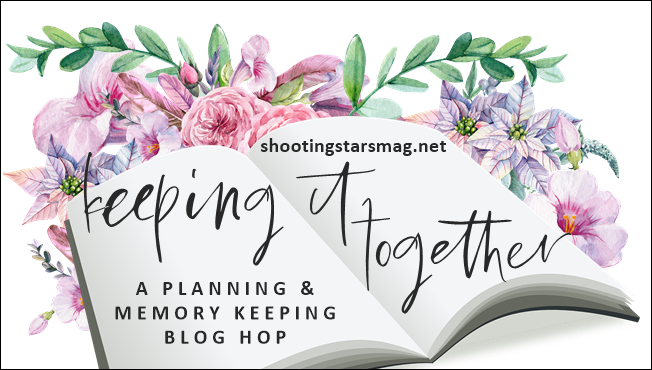 It's time for Keep It Together, with Alexandra and Rebecca Jo! If you have your own posts about planning, scrapbooks, memory keeping of any kind, please link up with us below!
Today I'm actually going to focus on my Spring Bucket List, which is a seasonal link-up with Leslie from Once Upon a Time & Happily Ever After.  
I consider bucket lists to be a mix of planning and memory keeping, so it works. However, with everything going on in the world concerning Covid-19 (aka coronavirus), I don't really know what this Spring is going to look like. I'm hoping that self-quarantine rules won't be in place for too long, but who knows? I still wanted to come up with a bucket list though, so it's going to be a mostly general one!
Keep It Together: Spring 2020 Bucket List
Get Outside – it's not going to do me much good to be shut up in the house all day, every day, so as long as the weather permits, I want to try and get outside as much as I can. Take a walk, or just hang out on my porch and read!
Work On My London Scrapbook – I have pretty much everything I need, so it's about time I actually worked on this thing!
Plan My 30th Birthday Trip– I'm planning on going to Gatlinburg later this year with my mom and sister for a 30th birthday vacation. I can use this time to do more research and figure out what I want do and see. If you have any ideas or suggestions, let me know!
Have a Movie Musical Night – I love musicals, as does my sister, so I think it would be fun to hang out with her one night and watch some. We own quite a few on DVD, but we're also lucky to have access to Netflix, etc.
Blog Ahead – being stuck at home most of the time means I should have more time for blogging, right? I definitely want to get more posts written and scheduled for the blog though so I have a nice back up for when we're all allowed to resume our normal lives!
Keep Up with the Read the Alphabet Challenge – I just posted some of the books I hope to read this season that go along with the Read the Alphabet Challenge I'm doing, so I definitely want to keep up with that. It's a great way to read more of the books on my shelves.
Get a Mint Shake– Drive-thrus and carry out are still open where I live, so sometime soon I'd like to get a Chocolate Mint shake from Arby's or a Shamrock Shake from McDonald's. I don't eat much ice cream, but these are seasonal shakes that always taste good – so why not give myself a little cheer?
Finish iZombie – My parents and I have been watching iZombie on Netflix, and we love it! We're in the midst of season 4 and there are 5 seasons total, so we're almost there! This would be a great time to finally finish the series.
I'm going to leave it at 8. Like I said, it's fairly simple things for this season since I don't know what Spring 2020 is going to look like. I'm hoping that things go back to normal sooner than later, but at least I have some things to focus on, which is always good for my mental health!
Spring 2020 Bucket List Amid Covid-19 - simple, but fun #ontheblog
Click To Tweet
Have your own Keep It Together post? Link up with us!
You are invited to the Inlinkz link party!