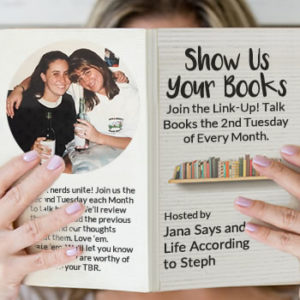 Show Us Your Books is hosted by Steph and Jana
As usual, I'm going to share some mini reviews of books I've read since the last link up, as well as some brief thoughts on books I've already done reviews for on the blog! I hope everyone had a great Easter, if you celebrate, and if not, I hope you had a nice weekend! Crazy times, but hopefully books are helping us get through!
View this post on Instagram
The Fourth Ruby by James R. Hannibal – add to Goodreads 
personal copy; all opinions are my own
I read and loved the first book, The Lost Property Office, so I'm glad the Read the Alphabet challenge gave me the nudge to read this book last month! I really enjoy this middle grade series. It's a fantasy adventure, with all sorts of historical mentions – which I adore. I liked the first book a bit more, but I'd still recommend these. I definitely want to read book 3!!
Hard Ride by A.M. Arthur – add to Goodreads 
copy from Netgalley; all opinions are my own
This is book no. 5 in the Clean Slate Ranch book series and I'm still loving these books. Hard Ride is about Derrick Massey, who you'll recognize if you've read the rest of the books, and Kendall "Slater" Stamos. Slater is injured and could use a place to rest away from the ranch, and closer to physical therapy, and Derrick could use a fake boyfriend for the five upcoming weddings he has to attend. Enter the agreement: Slater and Derrick pretend to be boyfriends over the summer, attending the weddings together, and sharing Derrick's apartment. I love a good fake boyfriend trope, and this was a really enjoyable read. I think the secondary characters – many of whom were new to the series – were so well done! Hopefully Arthur will have more books for us at the Clean Slate Ranch.
Only Mostly Devastated by Sophie Gonzales – add to Goodreads
copy from Netgalley; all opinions are my own
This book is inspired by the musical Grease. I wouldn't say it was a re-telling exactly because there is plenty that's different between the two. The basic ideas are the same though: Ollie and Will have a summer romance, with Ollie supposedly going back to California. Surprise, surprise! Ollie's family stays and him and Will are suddenly face-to-face again…except Will isn't out, and Ollie's well, "only mostly devastated." It would have been interesting to have both of the boy's point of views, but we only get Ollie's. It still works though, as I do think we get enough of Will's perspective as the book continues.
I found the book to be a slower read in some spots, but I still enjoyed it! Ollie's voice is great, and I loved him as a narrator. He'll make you laugh throughout, even as he deals with a dying aunt, Will ignoring him, fitting in, and figuring out his senior year. And yes, you may just cry. I know I got all teary-eyed in parts!
View this post on Instagram
I started a new feature which I called Fiction/Non-Fiction where I review a novel and a non-fiction book with similar topics. I asked on Instagram for a better title and I got Fact or Fiction, so I'm going to use that next time! For now, here's some brief thoughts on the two books from the first post-
Go With the Flow by Lily Williams and Karen Schneemann – add to Goodreads 
Brief Thoughts: I love that Lily and Karen came together to create a graphic novel about four high school friends who try to make talking about periods and feminie products less taboo. I definitely recommend this book for young girls who are about to have their period, but it's also great for those who already have one, as it might make them feel a bit more secure about it.
My Little Red Book – Add to Goodreads
Brief Thoughts: While many of the stories felt a bit too similar, I think that's comforting for some people – periods are normal, as are so many of the stories. I did really appreciate the different ones though!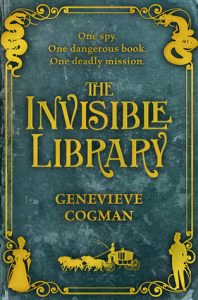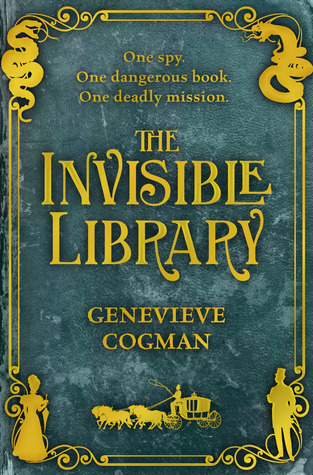 The Invisible Library by Genevieve Cogman – full review
Brief Thoughts: The Invisible Library is full of mystery and suspense – I didn't always know who to trust, but it made the book just that more exciting! The alternate London was a fun place to explore alongside Irene and Kai, and I loved their burgeoning friendship throughout the book. I always thought this was a YA series, but it's apparently categorized under Adult.
View this post on Instagram
Eligible by Curtis Sittenfeld – full review
Brief Thoughts:  I have to admit, despite majoring in English Literature, I've never read Pride and Prejudice. However, I was immediately curious about this modern adaptation because it takes place in Cincinnati and I live right outside the city. It was so much fun recognizing the areas Liz visited, or the places they went to eat like Skyline Chili.
View this post on Instagram
For the Love of Books: Stories of Literary Lives, Banned Books, Author Feuds, Extraordinary Characters, and More by Graham Tarrant – full review
Brief Thoughts: I love facts about books and authors, and this seemed like a fun one. I'm definitely glad that I had the chance to read it, though it wasn't my absolute favorite. I'd give it a solid three stars though, so still something worth checking out or gifting to a bookworm!
The Queen Bee and Me by Gillian McDunn (my review includes some fun bee themed crafts to do at home as well) – full review
Brief Thoughts: Meg doesn't always do the right things, but she gets better throughout the book, which felt realistic to me. It's not easy to stand up to your friends, or to do the right thing sometimes. She gets there though, and I liked seeing Meg and Hazel become closer.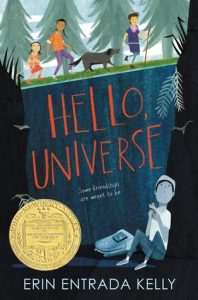 Hello, Universe by Erin Entrada Kelly (check out my review for a giveaway!) – full review 
Brief Thoughts: Hello, Universe is a quiet little book. I really loved that the book shows the perspective of all the middle school characters – there are four. The main one is definitely Virgil though, and then Valencia. I love that this book is full of diversity and it just encompasses the whole story.
There you have it! Have you read any of these? Any you'd want to now read? 
Also, I wanted to let you know about an Annotated Book Exchange I'm putting together to give us something fun to do during these crazy times. You would choose a book for the person you are matched with, read it and annotate it as you go along (write in the margins or use post-it notes) and then send it to your person so when they read it, they have your thoughts throughout. If you want to sign up, you can do that here. I think I'm going to have sign ups end this coming weekend so I can get people partnered up!!