Please pin this image below if you like the post! 
Happy Monday! You didn't think I was finished with the Stocking Stuffer posts, did you? Today, I am very excited to introduce you to Emily from LavenderChai. I have an interview, review, and a giveaway, so read on!
1.How did the idea of selling mini painting kits come about?
I started making mini painting kits in early March of 2020 when Covid started spreading in Minnesota where I live. I've always loved painting with watercolor and I was really interested in trying out gouache, which is an opaque type of watercolor paint. Like many people around the world, I decided it would be a perfect time to try out this new hobby and I ordered a set of gouache paints.
At the same time, I was writing letters back and forth with some of my friends, and I had mentioned in a letter that I was trying out this new paint called gouache (I was, and still am obsessed with). I was painting lots of little paintings and sending them to my friend in those letters. One afternoon while writing a letter, I thought it would be really fun if I could create a dot card of a few of my favorite gouache colors to send to one of my friends to try out. Dot cards aren't really new to the art world, numerous watercolor makers sell giant dot cards of all their paints so that you can test out which colors you like best before you buy. They're also a really popular way to sell handmade paint.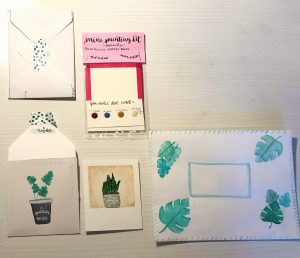 After this first dot card dried, I put it in the envelope and realized that this paint would be terrible if my friend didn't have any good watercolor paper to use it with. I am a firm believer that when you're starting out with watercolor, good paper is the MOST important thing you should have. Regular paper just doesn't quite treat your paint the same way when it comes to painting with water.
I cut out a small piece of watercolor paper and taped it around the edges to create a nice border that looked kind of like a cute little instant photo when you peeled it off.
I put the dot card and watercolor paper in a little plastic bag and decorated a sticky note that I stapled on top. Behold the birth of the mini painting kit! I mailed it, and my friend loved it. It occured to me that other people might want to send little projects like these to friends while they're stuck at home, or use this to start out with painting. I took a couple photos, and listed the first four mini painting kits in my Etsy shop. I am thrilled to be able to say that they all sold out within the first week or so, and I had to close my shop for another week to pack orders!
2. What's the best thing you've ever painted – or your most favorite?
I am by no means a pro, but I've definitely painted my fair share of tiny paintings this past year. My favorite mini painting has got to be the "Potted Plants" painting I did to go with the kit in my Etsy. It's so simple, but I think it turned out really cute! I also really love to see people recreating my paintings- it's so fun! I love to see what original things people are creating with my kits, but I honestly am so flattered when I see recreations too.
3. Where does the Etsy name LavenderChai come from?
To be honest, Lavender Chai was a bit of a random choice for a business name. I created my Etsy shop originally for the mini painting kits, but I also didn't want to be stuck to that for the rest of time. Lavender Chai comes from my two greatest obsessions in life- lavender scented everything, and chai tea.
4. Anything you want shoppers to know?
There are two things I would love for shoppers to know when they're buying and planning on painting. The first, is that I love it when you message me and ask for painting tips. Whether it's my paintbrush recommendations or tips for beginners, please reach out! I would love to help. The second, is that you don't have to recreate the paintings that you see in the listing photos if you don't want to! They're just a place to start if you're not sure where to start. If you look at the "Strawberries" watercolor kit and you're inspired to paint an apple, paint the apple! There is no better way to improve your art than to practice & embrace your creativity.
Lauren's Attempt at Mini Painting
Emily was super awesome and sent me some of her mini painting kits so I could share them with all of you! I got a few Christmas themed ones, as well as a Beach Day and Galaxy. These are packaged so cute; they really would make wonderful stocking stuffers or just a little something for an artsy friend. You don't have to be a great painter (like myself) to enjoy them! P.S. You do need your own paint brush; small is better.
Here's a look at the Evergreen painting I did. The kits come with directions on how to use the paint and get started, but it doesn't have step by step painting directions. However, Emily has her own paintings on Etsy, so I mostly free-handed what she had done. It's not as cute as hers, but I think it turned out well. The card is covered in painter's tape so you can peel that off at the end and your painting looks a little like a polaroid picture. You can see what I mean later.
This photo also shows you my paint card after I'd done the picture. As you can see, there is still plenty of paint left. I let the card dry and then kept it for future projects – never hurts to have some extra colors!
The next item I decided to paint was a Holiday Gift Tag. These come in a pack of 5, all pre-cut and ready for you to paint. I've only painted one so far, but I definitely plan to do the rest soon so I can add them to some gifts. As you can see above, I decided to do a simple holiday wreath for the gift tag and I really love how it turned out!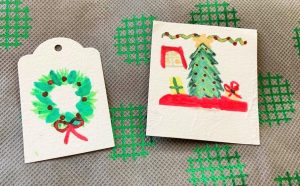 Here's a final look at both of my finished paintings! When I took the painter's tape off the tree painting, I pulled up some of the card on accident, but it still looks fine, and it didn't ruin my actual painting. I was thinking I might put my own holiday washi tape around the sides to spruce it up a bit!
If you visit LavenderChai, her featured items at the top are all holiday related so you don't have to look far for what you want. She does have other options though, so be sure to look through them all (mini painting kits and stickers). One of the things that I love is that Emily offers gift wrap for an extra 50 cents – plus, everything in the shop ships for free in the U.S.!
Win Your Own Holiday Mini Painting Kits
Because Emily is even more amazing, she has offered a really cute prize pack for one lucky winner!
Prize Pack Includes:
– The "Evergreen" mini painting kit
– The "Winter Wonderland" mini painting kit
– The Holiday Gift tags painting kit
– A handful of stickers
RULES!
to enter, please use the Rafflecopter form below
U.S. only
must be 18+ or have parental permission
we are not responsible for lost or damaged items once they have been shipped
Giveaway ends on Wednesday, December 2 at 11:59 p.m. EST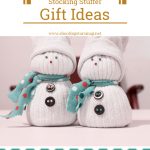 Don't forget the following Stocking Stuffer Posts: 
East Grove Studio: Throughout the month of November, you can get 15% off of your purchase if you use the following code: SHOOTINGSTARS
Just DREAM It Creations: the giveaway has ended here, but you can still see my review. Plus – use the code STAR25 for 25% off – this is good throughout all of November.
The Prints Maker: a feature of some cute mini calendars
Unforgettaballs: U.S. entrants can win a beautifully designed baseball of their choice. This giveaway is part of a hop, so you can find more giveaways too. All of these end on December 1.
Christina's Baby Boutique: a look at some gift ideas for teachers, daycare workers, parents, and more (includes an interview with Christina). Plus- DEC2020 for 10% off her entire shop till Dec 20th
Joan's Garden's Soaps and More: U.S. entrants can win a Christmas box of soaps, lotion bars, and lip gloss. This is part of a giveaway hop – all giveaways end on December 2.
Tolton Avenue: a review and giveaway for a personalized wooden notebook and a wooden mini 2021 bucket list notebook. U.S. only for the giveaway – ends Friday, November 27.